The eucalyptus tree has become an invasive plant in some areas of the United States. Native plants are unable to grow under the thick cover of the groves that develop over time. In many cases, it is necessary to kill the tree in order to claim back your yard. Killing the tree can be challenging, but with some patience you can eliminate the tree and allow native plants to flourish again.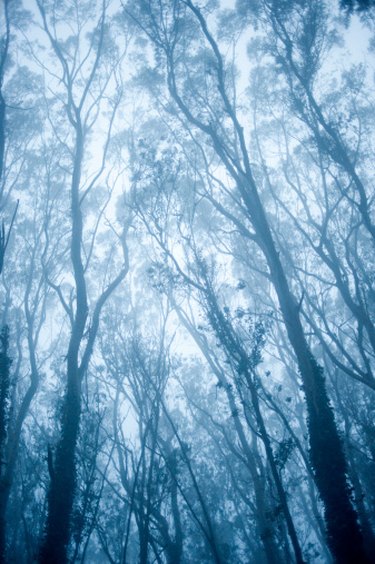 Things You'll Need
Pet-Feeding Syringe

5/16 Drill Bit

Drill

4 Percent Concentrate Glyphosate
Step 1
Drill holes around the perimeter of the trunk of the tree at a 45-degree downward angle. Space them every 2 1/2 inches and go through the bark and into the cambium -- about 2 inches deep. Space them 1 inch apart in cold weather.
Step 2
Draw up a 4 percent concentrate solution of glyphosate into a syringe and fill each of the holes with the herbicide until the tree has been circled. Avoid dripping the glyphosate on other plants in the process.
Step 3
Wait for the eucalyptus tree to die, which might be as soon as two weeks in the middle of the summer season or a month or more during the winter.
Step 4
Cut the tree down after all signs of life have ceased and the leaves fall off the tree. Mow down any sprouts that reoccur so they have no chance to grow.