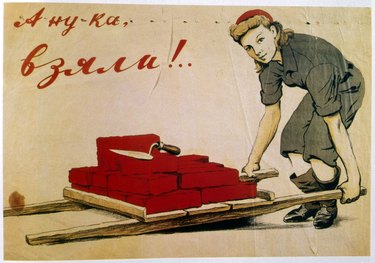 When it comes to setting the atmosphere, decorations can "make or break" a theme party. Whether your 1940s glamor party is a bash to celebrate graduating from law school or an elegant fundraising fete for a worthy cause, take inspiration from the stars whose style defined 1940s glamor.
Movie Posters
Establish a time-warp feeling with vintage posters advertising popular films of the 1940s, borrowing a tip from an article called "Old Hollywood Themed Oscar Party" on the website Celebrations.com. The article suggests to "hang black and white photos of Old Hollywood stars or movie posters of classic films." Tweak the idea by picking some of the top films of the 1940s, such as "His Girl Friday," "Watch on the Rhine," and "The Lady from Shanghai."
Ostrich Feather Centerpieces
Craft original centerpieces with vases and ostrich feathers, following the lead of an article called "Feather Plume Centerpieces" on the website Celebrations.com. Start with "super tall, narrow vases," the article directs. Place a foam bouquet holder in the neck of the vase and stick ostrich feathers into the foam until you have a fluffy, elegant circle of feathers crowning a tall vase. For a similar but less time-consuming variation, tuck single peacock feathers into crystal stem vases.
Silhouettes
Cut out life-size silhouettes of 1940s movie vixens like Rita Hayworth and Veronica Lake striking alluring poses and place them along or on the walls. Material options for these silhouettes include plywood (painted black) or black butcher paper (the kind teachers use that comes on a roll). Turn the silhouettes into a party activity as well as decor by placing a famous quote from each actress next to the silhouette. Hold a contest to see who can correctly name the actress associated with the quote. Alternately, purchase a stand-up cardboard photo cutout of a 1940s actress like Lauren Bacall and position it at the main entrance, welcoming party guests and offering them a photo opportunity. Set a wine bucket full of props like cigars, feather boas, cigarette holders and fancy hats next to the cutout.