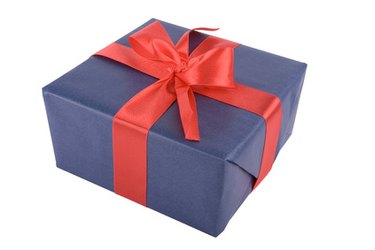 When your brother turns 50, it is cause for a special gift. You grew up together and share a bond unlike any other. Celebrate his life by presenting him with a one-of-a-kind treasure that comes from your heart. Whether you seek out a meaningful token or pick a gift that pokes fun at his age, make sure you choose something that reflects the relationship you have with him.
Sentimental Gifts
Show your brother how much he means to you and choose a gift from the heart. Think back on your childhood together and create a scrapbook or journal sharing your favorite memories. Add old photos to help him relive "the good old days." If your brother loves music, make a collection of five mix CDs, each featuring music from a decade of his life (for example, music from the 1960s, 1970s, and so forth). Capture major life events in a time capsule. Gather high school yearbooks, sports uniforms or trophies, favorite records or cassettes, copies of favorite movies and other items from his youth and young adulthood. Arrange them in a basket or a large box and let your brother stroll down memory lane.
Playful Gifts
As the saying goes, "The only difference between men and boys is the price of their toys." There are plenty of other differences, but it's true that even men in their 50s like to play and have fun. Encourage your brother's favorite hobby by choosing a gift that supports it. For example, if he plays golf every weekend, pick out a special putter. Research MP3 players or digital video cameras and choose the best for the guy who loves gadgets. If your brother never outgrew his love for video games, buy him a gaming system; even though he's 50 he can still be a kid at heart. Show your brother how sweet he is by seeking out his favorite old candies. Many stores sell a selection of nostalgic treats like Mary Janes, Fun Dip, Chuckles, and Bazooka gum.
Gag Gifts
Siblings often play pranks on one another, and a birthday is a great reason to have a little fun with your brother, especially if you're younger. Poke fun at his age by putting together a basket full of items that the elderly might use. Examples include denture cleaner, reading glasses, a pill box and fiber supplements. You could take it one step further and buy a cane or walker. These days many 50-year-olds are just as active as they were years ago. If your brother enjoys a healthy lifestyle and doesn't look a day over 45, choose items like T-shirts or hats that proudly proclaim "Over the Hill." Everyone will know he's no spring chicken, even if he looks like one.