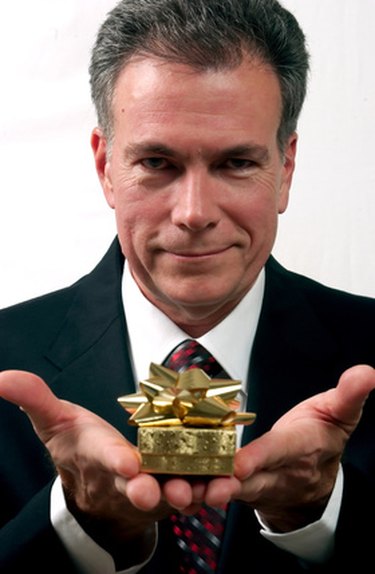 One problem with buying a gift for your boss and his wife is that, almost without exception, they can afford a better present than anything you could buy for them. If your corporate culture demands that you exchange gifts with the boss and his wife at holiday time—or if you work for both of them—put your business savvy to work. Consider what you know about how the couple spends their off-duty hours, what's important to them and how much time they spend together; you can parlay this knowledge into the perfect gift.
Homemade Gifts
If you know that your boss and his wife do a lot of holiday entertaining, put together a gift basket that will help them add a personal touch to their parties. Home made fudge, cookies and nut breads make a great gift, as does a crock of your secret-recipe Tom and Jerry batter and a pair of your hand-dipped taper candles. If you are a skilled craftsperson, knit them matching scarves and stocking caps, piece together a quilted wall hanging that matches their dining room décor, or carve intricate wooden ornaments for their Christmas tree.
Gift Certificates
Some people think that gift certificates are a cop-out when it comes to gift-giving, but it doesn't have to be that way; simply put some thought into the recipients' tastes and then couple the gift cards with small related gifts. Think matching mittens with a coffee card tucked inside for winter weekend walks to the local coffee house, two boxes of chocolate-coated raisins and movie tickets or a copy of a music magazine and a certificate for music downloads. Whatever you give, make it something that your boss and his wife can use together.
Food Gifts
If your boss and his wife are "foodies," gear your gift to their particular tastes. Gourmet cheeses, meats and jellies are especially welcome around the holidays, as are steaks, ham, turkey and fish. If they are oenophiles, select an assortment of palate-pleasing wines—ask the manager of your local wine shop for help if you aren't knowledgeable yourself. If they have children, give them an assortment of holiday-themed candies, cakes and cookies to share with the rest of the family.
Donations
If your boss and his wife work tirelessly to support a cause that is near and dear to their hearts, make a donation in their name and ask the organization to send them a card notifying them of the gift. Be sure that it is a charity that the couple supports, and not an excuse for you to donate to your own favorite causes—that can put you both in an awkward position.