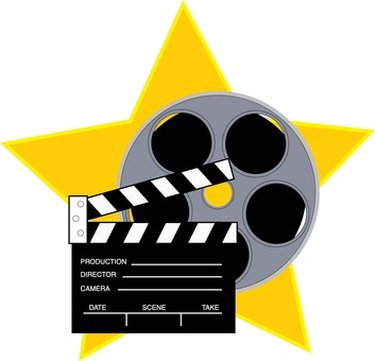 Youngsters who dream of starring in the next science fiction or princess movie feel the exciting lure of Hollywood. Dress-up games feature movie-star sunglasses, feather boas and fashionable clothing fit for a headline-making performer. Help kids play a part in a Hollywood fantasy by creating crafts with the glittery world of movies and stardom in mind.
Paparazzi Collage
Throw open the dress-up closet and find the red-carpet-worthiest duds for the budding movie stars in your life. Select outfits for a paparazzi photo session. Take a dozen pictures of each child as they strike glamorous poses. If you have a group of children participating in the craft, let them take turns photographing each other. Print and trim all of the pictures and give each child the stack of photos in which they are featured. Give each child a sheet of 12-by-18-inch red construction paper and let the kids glue the pictures to the paper with a glue stick. Drizzle gold glitter-glue around the pictures to add sparkle.
Name in Lights
Glue yellow pom poms all the way around the edge of a piece of black 12-by-18-inch construction paper. Write a child's first name in upper-case block letters on the paper with a white crayon or a silver permanent marker--so it is visible on the dark paper. Pour a blob of liquid glue on to a paper plate and let children dip multicolored pom poms into the glue and stick them onto their names. Encourage the children to place the colored pom poms in a repeating pattern to resemble the lights used for names in marquees.
Walk of Fame Star
Let youngsters make a star like those bestowed upon the famous and embedded in the sidewalks that line Hollywood Boulevard and Vine Street in Hollywood California. Draw a star on a 12-by-18-inch sheet of heavy yellow construction paper or card stock. Give children, 6 years old and up, scissors to cut the star. Help younger children cut their stars. Give each child a 3-inch-diameter circle of gold colored construction paper and crayons. Ask them to draw a picture of themselves in the circle. Older kids may enjoy drawing a representation of themselves preforming, singing or dancing, on their paper circles. Glue the circles to the center of the stars. Let the children write their names with black crayons along the top of the star directly above the paper circle. Display these in a row along a wall near the floor.