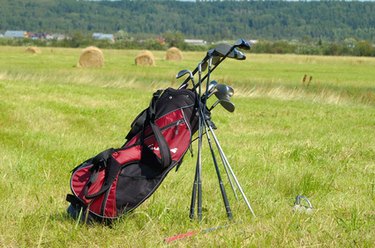 Sometimes, you just do not want to sell those old golf clubs, but you are tired of them taking up space in the hall closet. They may be broken or just worn. Turn them into furniture, and get them out of the closet and into another room of your house. They can have a new use and remind you of the fun you had with them when they were new.
Golf Tables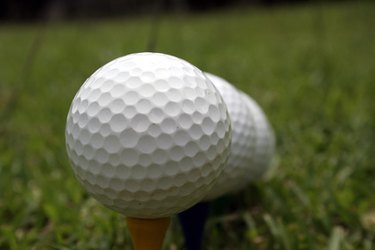 These tables are especially nice in a Florida or game room as side tables. Take four golf clubs and cut them in half. Use the bottom halves for the legs of the table. Use hot glue or bonding glue to mount the club heads on furniture coasters. (Get help selecting the best glue at a craft or hardware store.) Let them dry. Hot glue or glue brown or black golf balls on the tops of the golf clubs. Glue the other ends of the golf clubs to the golf balls, connecting the shafts in a square with golf balls at each corner. Let them dry. Now you have the frame of the table. For the top, use an old wooden chess board. (If you don't have one, you can probably find one at a pawn shop or junk store.) Glue the chess board to the top of the golf balls, and you have a table. You can either set drinks on it or play chess with it.
Shadow Box Frame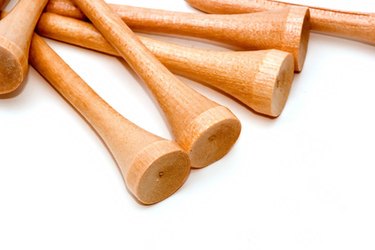 Buy a shadow box, and display mementos of special golf events in it. Create a frame for the shadow box by measuring the sides of the box and cutting an old golf club to match each side. The four heads and shortened shafts of these clubs make a frame. Line up the clubs so that a head is at each corner of the frame and a shaft connects one head to the next. Use bonding glue to stick the shortened clubs to the sides of the shadow box. Hang the shadow box in a favorite spot so that you can be reminded of fun times all day long.
Sports Magazine Stand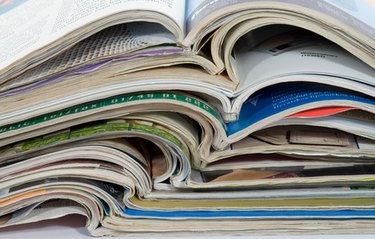 Get an old wooden crate, and paint it green. Glue different colored golf balls on the bottom at each corner of the crate. Cut old golf clubs to match the length of each side of the opening of the crate. Spray paint the clubs to match the colors of the golf balls. Glue the clubs along the edges of the crate opening. Paint golf flag sticks on each side of the crate to match the color of the balls and the clubs. Keep new editions of sports magazines or favorite old editions in the crate.