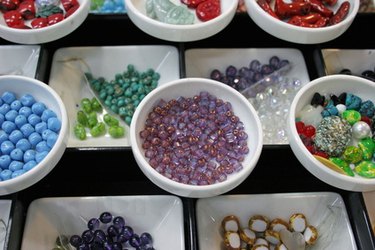 If you are in search of a home-based business opportunity and have talent in arts and crafts, the answer is literally in the palm of your hands. Take the arts and crafts you already enjoy making, and develop a marketing plan to sell your handiwork to turn a profit. Offer your goods wholesale to retailers, set up a booth at an arts and crafts fair, or sell items on the Internet.
Drawing Crafts
Cartoonists can earn money selling their drawings to art agencies, magazines and greeting card companies. If you have skill drawing with ink, offer ink drawings of private houses, people or famous landscapes. Draw pencil or charcoal sketches of a series of industrial landscapes, and sell them through an art gallery or at your own private exhibition. Make custom name posters with fun graphics. Sketch people on the street as caricatures for some quick cash from crafts.
Painting Crafts
Travelers are always looking for mementos of their vacations. Consider making oil paintings of popular tourist spots and marketing them to shops near the sites you paint. Paint wine glasses, carafes, vases and jars with small scenes. Offer window painting to local retail stores. Painting seasonal themes may increase their visibility during the busy holiday season.
Wood Crafts
Build custom wood cases with glass tops for collectors. Search through old books, magazines and calendars for prints that can be framed and sold at a market or craft event. Make and sell old-fashioned kites. Make chess sets using interesting pieces, and sell them either at stores or craft fairs. Wooden garden ornaments are popular craft items: try wheelbarrows, little benches, and wishing wells. A garden center may purchase these goods from you to resell.
Jewelry Making
It seems that women can never have too much jewelry. Consider making some pieces and marketing them to local boutiques. Consider using materials that are popular in the area. If you are by the beach, you could incorporate local seashells. Or offer custom jewelry design services for special occasions and weddings.
Supplying Crafts
If you are not artistically inclined, you can still make money using arts and crafts by being a supplier. People enjoy crafts from other parts of the world, such as South America, Africa and Asia. Sell these items from an importer, or become the importer yourself. When you are traveling, inquire in artisans' markets about exporting crafts to the United States.