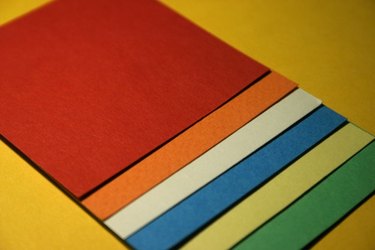 Color-aid paper is a type of textured paper used by graphic illustrators, architects, fashion designers, interior designers, photographers, artists and other design professionals. The paper is heavy, making it the preferred choice for acrylic, tempera and poster paints. It is commonly used in art and design classes to teach color theory and for arts and crafts applications.
History
The Color-aid Corp. designed and developed the Color-aid paper system in 1948. At that time, the system was used primarily by photographers as a backdrop. Soon thereafter, it was discovered by Josef Albers, who used the system as an educational tool in design classes.
Types
From 1948 to 1989, the Color-aid Standard Set was "the prevailing set," according to the company's website. It consisted of 220 swatches: 24 hues, four tints of each hue, three shades of each hue, 16 grays, blacks, and whites, and 10 additional colors. In 1990, the Color-aid paper system was expanded to 314 colors in a variety of bright pastels and lighter tints.
Features
Color-aid paper may be used for paper sculptures, color layouts, mock-ups, studio sets and collages. It consists of a velvety wrinkle-proof matte finish that is washable and does not bleed. Color-aid paper is acid free and easy to erase. It is suitable for ink, pencil, tempera and markers.