Things You'll Need
Wrapping paper tube

Scissors

Masking tape

Bowl

Paper mache pulp

Flour

Salt

Spoon

Newspaper

Sandpaper, fine grain

Washcloth

Acrylic paint, white

Paintbrush

Acrylic glaze, clear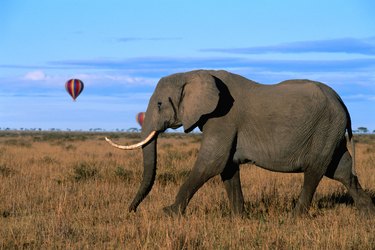 When you are putting together a report on elephants for a class project, you can make the report more interesting by using a visual display to accompany the paper. For example, make a large elephant tusk using a few basic materials that can be purchased at any arts and crafts supply store. The elephant tusk will enable the other students in class to see what a real elephant tusk may look like in the wild.
Step 1
Cut down the length of a wrapping paper tube for the tusk, and curl the it into a long cone. Tape the seam of the wrapped cone using masking tape to secure it into place.
Step 2
Bend the end of the cone with your hands to cause the cone to look curved, like an elephant tusk.
Step 3
Combine 2 cups of paper mache pulp, 1 cup of flour and 1/2 cup of salt into a bowl. Stir in 3 cups of boiling water, using a spoon, for one minute. Allow the paper mache mixture to cool and congeal for 30 minutes.
Step 4
Cut newspaper into long pieces using scissors to measure 2-inches wide, 6-inches long each. Insert the pieces of newspaper one at a time into the paper mache mixture, and lay them over the wrapping paper tube tusk. Cover the tusk with four to six layers of paper mache strips. Allow the elephant tusk to dry for six hours.
Step 5
Sand the paper mache elephant tusk using fine grain sandpaper for three minutes to make the tusk look sleek and smooth. Use small, circular motions with the sandpaper. Wipe off the elephant tusk using a washcloth.
Step 6
Paint the entire elephant tusk using white acrylic paint. Allow the paint to dry for 30 minutes.
Step 7
Apply a layer of clear acrylic glaze over the entire tusk to make it look shiny like a real elephant tusk. Allow the glaze to dry for 30 minutes before displaying the elephant tusk.
Warning
Keep sharp scissors and the hot paper mache mixture out of the reach of children.