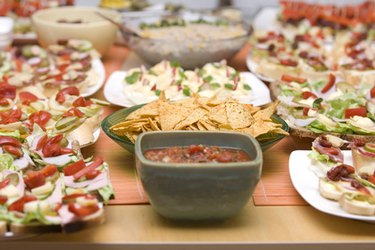 When planning a party, a host must always consider the food. Planning a sit-down meal for a houseful of people is impractical--the solution is a party buffet. Set up a long table full of dishes to which the guests can help themselves. If you expect the guests to be milling around and chatting while they eat, plan easy-to-eat finger foods.
Cultural Foods
One option is to base your party--and your buffet--around a specific culture. For a Hawaiian luau, serve a baked ham, pineapple chunks or rings and a bowl of mixed tropical fruits. Add macadamia- or coconut-crusted chicken strips and grilled skewers of pork, sweet pepper and pineapple to round out the buffet. For a Mexican fiesta or Cinco de Mayo party, set up a buffet of build-your-own-nacho ingredients like chips, salsa, black beans, spicy chicken, guacamole, cheese lettuce, tomatoes, jalapenos and sour cream. If you like, add small triangles of cheese or chicken quesadillas and a platter of honey-drenched sopapillas (fried pastry) for dessert.
Holiday Foods
If you're having a holiday party, choose buffet foods that fit the season.
For Halloween, create a cream cheese and spinach "graveyard" topped with broccoli and cauliflower trees and cracker "tombstones." Model a cheese ball "skull" and set out crackers to go with it. Add steak on a stick to the buffet and top off your offerings with toasted pumpkin seeds and cookies in spooky shapes.
Platters of grilled burgers and hot dogs with all the available fixings can anchor your Fourth of July party buffet. Add cold sides like macaroni and potato salad and finish with a red, white and blue dessert like mini tarts or sponge cakes topped with whipped cream, strawberries and blueberries.
Theme Party Foods
If your party has a theme, choose buffet foods that complement that theme. For an outdoor garden party, put together a vase of fresh fruits cut and arranged on skewers to look like flowers. Add a fresh vegetable platter and finger sandwiches like pimento cheese and cucumber. Offer desserts such as mini-key lime tarts and petits fours.
For an "under the sea" party, opt for buffet foods like chilled peel-and-eat shrimp, crab-stuffed mushrooms and bacon-wrapped scallops. Add chips and dip and a veggie platter for those who aren't seafood lovers and finish with tiny cupcakes topped with wave-like meringue.
Regional Cuisines
If your party doesn't have a theme, plan your buffet around classic regional cuisines. For example, Southerners can offer party cups of shrimp and grits, fried chicken, fried okra, cheese straws and cocktail sausages in barbecue sauce along with divinity or miniature sweet potato pies for dessert. New Englanders can offer party cups of clam chowder, sliced brown bread, bite-size Reubens and miniature whoopee pies.