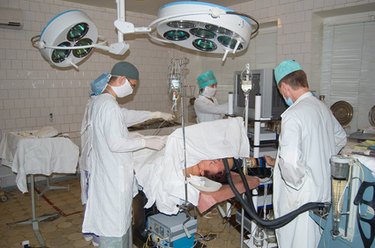 Celebrate the surgical technicians who assist during operations by hosting a series of events during Surgical Tech Week. National Surgical Technologists Week takes time out of the year to say "Thank you" to those who might not get the same recognition as a surgeon. The week normally occurs during the third week of September.
Posters and Cards
Put up "Thank You, Surgical Techs" posters up in the break room of your medical facility and give each surgical technician a "Thank You" card to make each one feel special. Putting posters around the building informs the public of the hard work surgical technologists do.
Lapel Pins
Look for decorative lapel pins custom made which say "Best Surgical Tech" or "Thank You, Surgical Tech" and give to workers at your facility. They can wear the pins throughout National Surgical Technologists Week and during the year after. Try custom lapel pin companies such as Brown Industries (see Resources) which allow you to add your facility's logo and choose the wording on the pin.
Newsletter or Newspaper Article
Print a report in your medical facility's newsletter thanking the surgical techs for their work. Take out an advertisement in the local newspaper or write a guest column about the efforts put forth by surgical technologists. In the town newspaper, include in your article a description of what a surgical tech's job requires and let the public know why these medical professionals play such a critical role in health care. Informing the public about what surgical techs do can increase their awareness and appreciation for these medical professionals.
Throw a Party
For all of the surgical techs in your facility, throw a party on the Friday at the end of National Surgical Technologists' Week. Have a cake with a surgical mask design on it, or use a real mask on the cake, and have "Thank You Surgical Techs" written on the cake in icing. Put balloons up around the break room to add to the festive atmosphere. Instead of a cake, you might consider individual cupcakes or cookies in the shape of surgical instruments. Check with a local bakery about custom designed cookies or cupcakes.