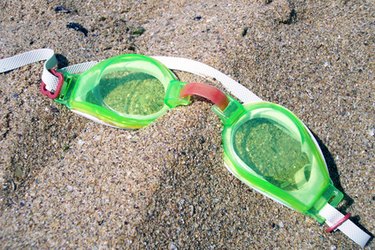 When throwing a banquet for a swim team, you have the opportunity to create table centerpieces on the themes of swimming, water and competition. Centerpieces are a good opportunity to add a lighthearted, fun touch to a banquet or to provide inspiration for the seasons to come.
Pool Toys
For lighthearted and inexpensive centerpieces, buy children's pool toys, such as foam noodles, rubber duckies, buckets and shovels. Look for small toys to avoid overcrowding the table and to leave room for plates and glasses. Often, dollar stores will carry small, inflatable toys that are perfect for centerpieces. Use markers, fabric paint and glitter to write the name of the team, list awards or write out funny swim team moments. For easy removal, allow the swim team to take the toys home at the end of the night for younger siblings or as a reminder of the season.
Swim gear
When you're not working with a large budget, consider using the equipment you already have to create imaginative centerpieces. Use towels to make funny towel sculptures, complete with goggles and swim caps. Place small LED candles in each pane of a pair of goggles. Or use a swim cap as a base for a LED candle.
Medals
If your swim team has had a remarkably good season, use medals and trophies as centerpieces. They will add a celebratory touch to the banquet and provide conversation starters about great meets and trips during the year. On tough years, using awards as the focus of table decorations will remind members that one year does not make or break a swim program and will help end the year on a good note. Display them along the center of a table, and add some sparkle with confetti.
Candy
For a fun, edible centerpiece, fill clear glass containers with brightly colored fish candy. Use Swedish fish, gummy sharks, and any other marine-themed candy you can find. Alternate colors down a table to create visual interest, and encourage swim team members to eat the centerpieces during the banquet. At the end of the night, offer plastic baggies so people can take the remainder of the candy home.
Photos
Collect fun photos from parents who documented the swim team's season and have them printed. Look for group shots, action shots, and funny candids. Be sure that everyone on the team is included. Place the photos in clear plastic stand-up frames along the center of the table, and scatter festive elements like streamers, noisemakers and confetti around each photo.