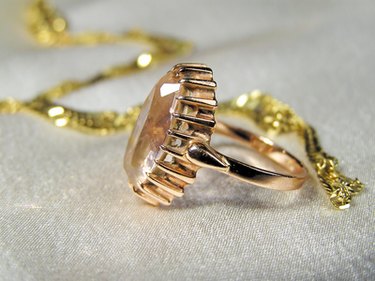 A 50th wedding anniversary is known as the golden anniversary and is celebrated with the couple's family and close friends. This party should be as wonderful as the couple being honored. Organization, creativity and communication are keys to planning a great 50th anniversary party.
Guest List
Whether small or large, the guest list for a 50th wedding anniversary should include lives the couple has touched over the years. Given the couple's long span of marriage, this will likely include a large list of family, friends and neighbors. It is important to send out the announcement even if you don't think the guests will be able to join you since you will want to announce the important milestone. Sending an invite to all friends and family also gives them your mailing address in case they want to send well wishes and gifts.
Selecting a Date
As you will want to include family, friends and loved ones, select a date that does not conflict with special occasions, birthdays or family reunions for close members on either side of the family. This is especially true if these special occasions are for children and grandchildren. However, one exception is if most of your family is out of town. In this case, you must consider the best time of year for them to travel. Often, this time is during the holidays when children are out of school and your relatives have time off work. Your anniversary celebration may be a great vacation option for them.
Building a Golden Theme
Search for golden accents for your anniversary party decor. Party supply stores often have metallic gold plates and serving ware, but table top accessories and decor accents should be purchased individually from thrift stores and antique shops so that each item is personalized for the couple. For example, selecting charms from bracelets and necklaces that make up the initials in the couple's first and last names can be used as cupcake toppers. The key in picking the best decor accents is to take your time finding the right items and remember that both sentiment and presentation are far more important than style.