When someone you know buys a home, there's an opportunity to present him with a gift to celebrate the purchase. Some of these gifts are designed for entertainment, but others are symbolic to represent a new beginning and protect the house and homeowner. The house blessing gift should be chosen based on the new homeowner's personality and interests. If he's not a very spiritual person, there are choices such as decorative and entertainment gifts that can be presented as a house blessing gift.
Flowers
Flowers can be given to provide decoration and the presence of life in the new home. These flowers can be potted and remain in the home or removed and planted in the garden. Some suggestions can include herbs to start an herb garden or plants and flowers that are purely decorative.
Fresh-baked Food
After an person or family moves into a house, a considerable amount of time is spent organizing the house and unpacking. Finding time to cook a meal during the week can be a real challenge. As a housewarming gift, bring items such as freshly baked desserts to help feed the new homeowners. Along with desserts, fully prepared meals or meals that just need to be heated up in the stove or microwave can save the family time. It can also offer an alternative to ordering food from a local restaurant, saving the family time and money.
Good Luck Charms
When blessing a new home, keeping evil spirits away from the home plays a role, both in religion and those with superstitious beliefs. Purchase token gifts such as symbols made out of gold, silver or other metals to be hung on the door of the house.
Decorations
Decorations for the home such as photograph frames and paintings help the new homeowner decorate her home. These can be frames designed for the homeowner to fill with her own photographs or photographs the gift-giver chooses to include. Paintings or posters presented as a housewarming can be selected to highlight attractions in the local area or to help the new homeowner remember favorite places or activities from her previous home.
Gift Certificates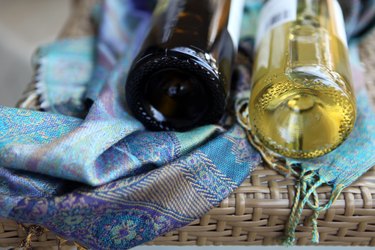 Moving into a new location presents excitement and fear. It's a new start for the homeowner, but it may also be an unknown area for him. Presenting the homeowner with gift certificates for retailers such as local restaurants, bars and entertainment establishments will help him get to know the area. This will allow him to visit these retailers knowing that they are recommended by the people who gave him the gift.