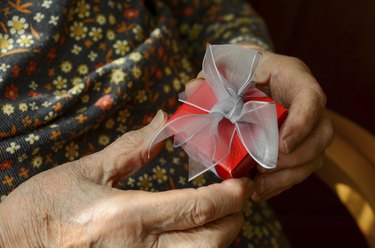 Valentine's Day is a day to celebrate love and togetherness, but for many seniors who feel isolated and lonely, it may be a difficult day. While many people think of the elderly at Thanksgiving and Christmas, Valentine's Day might be overlooked as an opportunity to make a person's day feel special. Cards can be made in advance and sent to a nursing home or delivered in person on February 14. Write kind sentiments to share with people who may feel neglected on Valentine's Day.
Love Grows
Send a special valentine that includes flower seeds. Nursing home residents often do not have their own gardens, and a small plant can bring months or years of joy. Purchase inexpensive plastic pots and a few sacks of soil from a garden center to donate to the nursing home for this project. Then buy a few packets of flower seeds and divide them into smaller envelopes. Make enough envelopes to fit in the number of cards you are sending to the home. On the front of each card, draw a picture of a flower and write "Love Grows." Clearly label the seed packet and glue a copy of the planting instructions to the outside of the smaller envelope. Paste the seed envelope inside the card and write "Pansies grow, too" or "Geraniums grow, too," telling the recipient into what kind of flower the seeds will grow. Ensure the seeds you choose fare well indoors and the nursing home can distribute the pots and soil.
Teatime
Fold a piece of construction paper in half and cute out a heart shape, keeping one edge of the heart on the fold so it opens like a card. Draw a mug on the front and write a tea-related pun such as "You are brew-tiful" or "You fit me to a tea." Tape an individually wrapped teabag on the inside of the card. You also might include a more personal message. Choose a special Valentine's-themed tea that might not be served in a nursing home, such as chocolate, strawberry or caramel flavors. Choose a variety without sugar and caffeine in case any of the recipients have dietary restrictions. When in doubt, call the nursing home in advance to ask about the recommended food guidelines.
Bookmark Bunnies
Make a Valentine's Day card that doubles as a bookmark. Many nursing home residents spend a lot of time reading, so a Valentine bookmark may make someone smile well after the holiday ends. Cut a slim piece of card stock between 2 and 3 inches wide and about 9 inches long. Punch a hole in the top and thread a decorative ribbon through the hole. Add a bunny sticker to the bottom or draw your own rabbit. Write "Some bunny is thinking of you" in clear, legible print.
Poetry and Prose
If you would like to send more restrained or traditional valentines to the residents of a nursing home, make multiple copies of a romantic poem. Cut the dimensions of each poem to fit a red construction-paper heart. Find the right poem through the Poetry Foundation, which features many classic and contemporary love poems on its website.