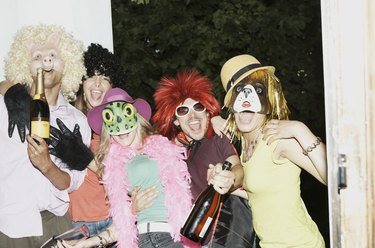 If you're hosting a Halloween party for adults instead of kids, but still want to organize a lively scavenger hunt for the guests, compile a list of items that will be entertaining and challenging to find. Choose a scavenger hunt theme that requires your friends and family members to uncover seasonal objects in an engaging way.
Photo Hunt
Let guests test their photography skills with a Halloween scavenger hunt that requires teams to capture seasonal images on digital cameras. Ask guests to bring a digital camera, if possible, to ensure that each team has one. Give each group a list of Halloween-themed items to take pictures of around the neighborhood, such as a carved pumpkin, a Halloween lawn sign, an inflatable ghost or team members posing like monsters. Give prizes to the team that returns first with all of the required images on their camera.
Car Scavenger Hunt
Organize an adult scavenger hunt that requires guests to get behind the wheel. Divide the group into teams and give each team a list of driving clues that will lead them by five Halloween-themed locations, such as a pumpkin patch, a diner with a sign advertising pumpkin pancakes or a house decked out for the holiday. Start the cars off in the same direction with a list of clues, such as "Turn left at the arches, drive straight and turn right at the numbers that equal 18" if you want teams to turn left at the corner with a McDonald's, drive straight and turn right at the 7-11. Award a prize to the first team that follows your driving clues correctly, and uncovers and writes down all five of the Halloween locations.
House Hunters
Create a simple scavenger hunt that allows guests to search your home for seasonal items. Provide each guest with a clipboard, pencil and a list of objects you've hidden in various rooms such as a plastic Dracula figurine, an orange candle, a faux cobweb, a jar of candy corn or a pumpkin sticker. Ask the guests to search the house for the objects and write down the exact locations next to each item on the list. Award prizes to the guest who finds all of the items first.
Purse and Wallet Search
Devise a scavenger hunt idea that requires guests to find Halloween-related items in their purses or wallets. Divide the group into teams. Call out items such as a piece of paper with the color orange, a business card with a Halloween-themed word, a picture of someone wearing a black article of clothing, a red lipstick or a piece of costume jewelry. Give a point to the first team to produce each item and award prizes to the team with the most points at the end of the game.