A photo scavenger hunt makes an exciting party game for kids, teens and adults. As the hunt organizer, take into account the ages of participants so that items are not too difficult for little ones. Before sending teams out, be clear about the rules, especially the area to hunt. Once teams are armed with their digital cameras and lists, it can take an hour or more for groups to snap shots of everything--have refreshments ready so hard-working teams can relax and review each other's photos.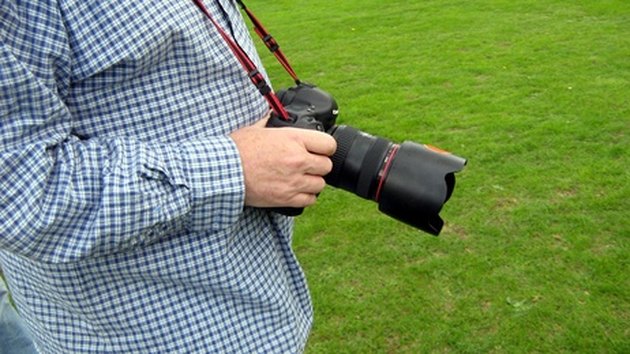 ABC Hunt
Give each team a sheet with rows that feature each letter of the alphabet. Send them out to hunt in a specific location, such as the neighborhood, a park, the mall or a school. Teams must snap 26 pictures of objects that begin with a letter of the alphabet--adjectives don't count. To make it more difficult, ask that teams snap photos in alphabetical order.
Color the Mall Hunt
Create lists of around 12 to 15 common objects, such as a hair brush, ice cream, car, shirt, sign, chair and fruit. Assign each team a color, then let teams roam around the mall taking pictures of each object, but only in the assigned color. For example, the blue team must collect photos of a blue hair brush, a blue shirt, a blue chair and so on down the list.
Christmas Decoration Hunt
Have the players bundle up to head around the neighborhood searching for outdoor Christmas decorations on the scavenger hunt list. For example, they'll need to snap pictures of an inflatable Santa, a Nativity, a yard display with elves of some kind, a Christmas wreath, a house with red exterior lights and a real snowman. Divide the group into two or three teams and send them on a drive around the town searching for additional decorations on the list. These might be things like a Santa in sunglasses, a sparkling snowflake, a store sign that misspells a holiday word and an image of a reindeer that does not have a red nose.
Nature Hunt
Organize a nature photo hunt with a large group in the great outdoors, such as a church youth hike or a Girl or Boy Scout camp adventure. Make a list of items in nature that are definitely present in the area but not necessarily plentiful. Ideas for the list include a robin, a pine cone as big as a child's fist, a Y-shaped twig, a white rock, a sapling tree and a squirrel. This kind of scavenger hunt works best when groups are separated on the trail--otherwise, every team will take the same pictures.