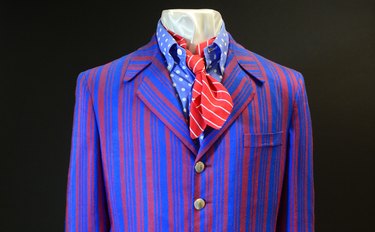 Yeah, baby! Austin Powers catapulted into pop culture in 1997, and the groovy British spy has been inspiring Halloween costumes and cosplay ensembles ever since. Putting together an Austin Powers costume might require a trip to a thrift store, but it's easier to source items than for a Foxxy Cleopatra or fembot costume.
​Here's quick list of items you'd need for a DIY Austin Powers costume:​
Velvet suit
Jabot (lacy neckpiece) and cuffs
Brown dress shoes
Dark glasses
Wig
Fake teeth
Everyone's favorite dental-impaired womanizer appeared in many different outfits over the course of the three ​Austin Powers​ movies, so you don't have to recreate one specific look.
If you were to go shopping for a packaged Austin Powers costume, you'd see a lot of variations on the same look: ​a blue velvet suit with white lace ruffles at the neckline and cuffs​.
That's the suit Mike Myers was wearing in a lot of the promotional materials for the ​Austin Powers​ movies, including on the poster for 2002's ​Goldmember​ movie alongside Beyonce.
While the velvet suit might be the character's most iconic look, it's not a super-easy one to reproduce since most people don't have a velvet suit in their closet. But because the lacy accessories are such a distinctive part of this costume, the suit's details don't matter as much. Any suit in a medium shade of blue will work.
As for those accessories? The lacy neckpiece Austin Powers wears is called a jabot, and it was modeled after a jabot James Bond wore as part of a disguise in the movie ​On Her Majesty's Secret Service​. Buy a jabot and lace cuffs on Etsy or Amazon or craft your own with a ribbon collar and several layers of lace handkerchiefs sewn or pinned together. Finish the costume with brown dress shoes.
Couples Costumes? Oh, Behave!
Austin Powers is a fun costume on its own, but there are a lot of ways to do Austin Powers couples costumes too.
​​Dr. Evil.​ Your partner can dress in a Dr. Evil costume that includes a gray suit and bald cap or take a more deep-cut approach by dressing as Scott Evil in a grungy late-'90s T-shirt and spiky hair.
​​Leading Ladies.​ Your partner can copy one of the franchise's many women, such as dressing in a mod silver mini dress as Elizabeth Hurley's character Vanessa Kensington.
​​Group Costumes.​ Those dressing as a group may want to try Felicity Shagwell, Fook Yu, Fook Mi, Frau Farbissina or other costume ideas.
More Austin Powers Costume Ideas
If you prefer to take a less conventional approach to your costume, you may be able to pass off any colorful '60s or early '70s apparel as an Austin Powers costume. After being frozen in time in 1967, he was still dressed in mod clothing when he was unfrozen in the 1990s. Think pinstriped suits with wide lapels, velvet jackets, striped trousers and button-down shirts, all in rich colors and eye-popping patterns. Mix and match patterns to get as much bright color as possible into your ensemble.
Another option is to tap into the "private" version of Austin Powers and dress like he does in bedroom scenes with his many love interests. All you need is a silky pajama set in a rich jewel tone.
Your Austin Powers costume isn't complete without three key accessories: ​dark glasses, a wig and those extremely distinctive teeth.​
They're the finishing touches that transform you from "person wearing '60s clothes" into "Austin Powers: International Man of Mystery." Pick up some black horn-rimmed glasses and fake Halloween teeth to cover your own top teeth. Wear a short brown wig to complete the look, with optional brown sideburns.
Finally, do some quick homework by watching YouTube montages of Austin's catchphrases and most memorable moments throughout the franchise. Unless you're already an Austin Powers superfan, a refresher of his mannerisms will help you embody this very distinctive character.