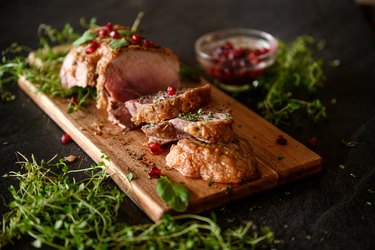 Sometimes Christmas Day dinner is best served for you, which is why there are many options for eateries open on Christmas in Denver, Colorado. From fancy brunches to all-you-care-to-consume buffets, you and your loved ones don't have to go hungry this holiday season. And you don't have to slave over a meal.
Fancy Feasts Restaurants Open on Christmas in Denver
If you're looking for a fancy Christmas Day dinner, there are several Denver restaurants for you to indulge.
Ellynton's and Palace Arms are two, upscale eateries located in the Brown Palace Hotel. Ellynton's offers a special Christmas buffet from 10 a.m. to 2:30 p.m. Palace Arms serves from 11:30 a.m. to 5 p.m. Food for both restaurants is American Contemporary and business casual dress is preferred. Reservations are recommended. Brown Palace Hotel 321 17th Street Denver, Colorado 80202 303-297-3111 brownpalace.com/dining/
Gattara's Restaurant & Bar (previously Randolph's) is open daily, and hours may vary so check ahead of time. Special holiday dishes will be served and the all-day dining menu is also available. Warwick Hotel 1776 Grant Street Denver, Colo. 80203 303-318-7272 gattaras restaurant.com
A Little Less Traditional
Looking for something a little different? These less traditional restaurants are open Christmas Eve and/or Christmas Day for your dining pleasure.
At Tuscany Restaurant and Lounge you can savor their very special Christmas Eve dinner menu this year. The three course meal includes New England style clam chowder or Tuscan pear salad, prime rib, crab-stuffed halibut or roasted polenta cakes, and nutella cheesecake with peppermint bark or banana Fosters bread pudding. Dress is business casual. Place your reservations early 801-277-9919.
The Corner Office Restaurant offers both dine-in and carry out options, and calls their cuisine international fusion. Get tastes from all corners of the world on Christmas Day from 7 a.m. to 10 a.m. for their special daily brunch, and from 12 p.m. to 7 p.m. Their Prix-Fixe dine-in menu is $60 for adults and $25 for children. They also offer a single plate option for $22. This menu features blister leek and potato bisque, honey glazed ham or carved prime rib, warm bacon with Kate and pomegranate salad, Brussels sprouts, and sweet potato qnocchi. In addition, The Corner Office will be hosting their regular happy hour from 3 p.m. to 7 p.m. This year they offer a full family style Christmas meal for take-out at $60 per person. These orders must be placed by Dec. 18 at 12 p.m. for Christmas Day pickup on Dec. 25. The Curtis Hotel 1401 Curtis Street Denver, Colo. 80202 -- 303-825-6500 https://www.thecornerofficedenver.com
At Bastien's Restaurant, you can enjoy your favorite holiday food no matter what country you come from. The menu includes entrees from Italy, Germany, France, America and the Caribbean. Reservations are recommended. Bastien's Restaurant 3501 E. Colfax, Denver, CO 303-322-0363
Mizuna of Denver proudly announces Christmas dinner "the way it was meant to be experienced." Christmas dinner "To-Go" is available for pick up on Dec. 23. Finishing instructions are included for your convenience. These meals are $110 per person and feature an entree of fig marmalade-glazed duck breast or confit leg.225 East 7th Avenue, Denver 80203. https://www.mizunadenver.com