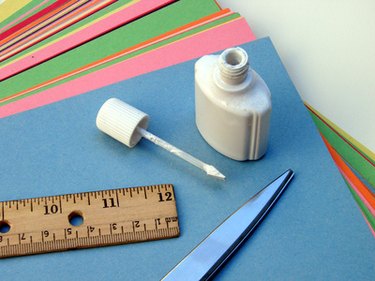 Most children in Sunday school learn about the Great Commission, the command given by God to go and share the Gospel with other people. There are several methods of sharing the Gospel, just as there are several crafts to use. These crafts can follow any lesson teachers give on responding to fulfill the Great Commission.
Suitcase
Help the children understand that they can share the Good News of the Gospel no matter where they go, even when they travel with their families. Fold a piece of construction paper in half widthwise. Cut out the shape of a suitcase. Make sure to cut out the middle of the handle so the children have something to carry their suitcase by. Cut out one of these for each child in the class, or just trace out a design for the kids to cut out in class. Have the children tape the sides of the suitcase so it holds all their "luggage."
Cut out plenty of rectangular pieces of paper that fit into the suitcase. Have the children write out several verses on the rectangles that they can use to share with others and help them learn about the love of God. You can type and print these out on adhesive paper so that younger children can affix them to the pieces of "luggage."
The children insert the verses into their suitcases to take home.
Map It Out
Draw and color a map that depicts Paul's Missionary Journeys. Explain to the children that Paul fulfilled the command of the Great Commission by going everywhere God told him to go. Give each child a piece of white foam board. Have them draw a map (using markers, colored pencils or any other medium available to you) of their own of where they can go to share the Gospel. Encourage them to draw pictures on their map of places in your local area. They need to know that they do not necessarily have to travel a long way to tell other people about Christ.
All the World
Get some blue clay before class. Make sure to have about 1 cup of clay for each child. You will also need toothpicks, tape and enough printed copies of flags of other nations for each child to have five or six. Give each child a lump of blue clay and have the children roll it into a ball to represent the world. Show them how to tape the paper flags to the toothpicks and then stick them into the "world" to encourage them to "go into all the world and preach the Gospel."