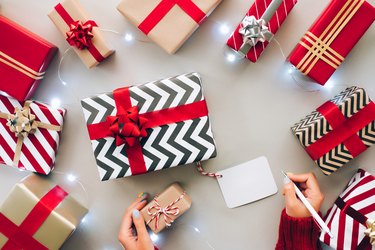 It can be very tricky to come up with good Christmas gift ideas for students in the fifth grade. At 10 to 11 years old, fifth graders aren't little kids anymore nor are they teens, so it's easy to get it wrong with gifts that lean too young or too old. When selecting gifts for fifth graders, it's helpful to know their personal preferences, but their age is also a great time to discover new interests and hobbies. You can play it safe with presents for fifth graders that have universal appeal or narrow down your ideas to fit their individual personality. This is achievable at any budget for store-bought options, DIY ideas and a mixture of both approaches.
Edible Gifts for Fifth Graders
Edible treats, particularly sweet treats, are a very safe bet when you need Christmas presents for students. You can, of course, go out and buy special chocolates or candies, but if you enjoy cooking, you can save a lot of money by making big batches of treats and preparing individual packages of them. Look for simple but delicious recipes that can be made in bulk, such as chocolate truffles, brittles and barks, chocolate-dipped pretzels, bonbons and toffee. With some nice gift boxes or fancy packaging with ribbons and bows, homemade treats are even more special than store-bought ones.
Another Christmas gift idea for students that will highlight a love of cooking is a recipe jar. Layer the dry ingredients for a favorite baked good in a glass jar with a lid and add the printed recipe as the tag. You can augment a recipe jar with a small extra gift, like a small wooden spoon or fun cookie cutter tied onto the jar with a ribbon.
Books are always a great gift, and the right book might even spark a lifelong love of reading in a fifth grader. Remember that there's nothing wrong with gifting used books that are in good condition. It's important to give age-appropriate books as presents for fifth graders, so if you're unsure, consult a children's librarian or look up lists of fifth grade reading level books.
For sure winners, find lists of books that have won prestigious awards for children's literature, such as the Newbery Medal, Caldecott Medal, Coretta Scott King Award or the National Book Award for Young People's Literature. Gift cards to book stores are a great alternative.
Hobby Gifts for Fifth Graders
Fifth graders are at a great age for learning new hobbies and skills and discovering new interests. Encourage them to try something new with a hobby-themed gift. You can buy arts and crafts kits in stores or put together your own with, for example, a ball of yarn, knitting needles and a beginner's knitting book. You could put together some art supplies with a sketch book or an inexpensive musical instrument, such as a harmonica, along with an instruction book written for kids. Instead of a book, perhaps put together a list of links to good instruction websites or videos to go with the gift.
Experiences as Presents for Fifth Graders
Sometimes, an experience can be so much more memorable as a gift than a material object. Entrance tickets or gift cards to fun destinations in their local area allow you to choose experiences as gifts for students. Consider local theme parks, arcades, mini golf, go-kart tracks, ice rinks and snow play areas. Movie passes are always gladly received as well.