Gilligan's Island costumes are a great idea for a group costume or costume party theme. The silly sitcom about seven castaways on a tropical island provides ample fodder for fun and games. If you need more than seven basic costume ideas, you can always add some absurd "native" costumes from assorted episodes.
Gilligan
The klutzy deckhand, Gilligan, is the clown of the castaway crew. His basic costume is easy to replicate. Gilligan has blue, bell-bottom pants and white canvas shoes. His red, long-sleeve shirt has a pointed white collar with three white buttons down the front. He wears his white sailor's hat with the brim down.
Ginger
Ginger is the sexy movie-star castaway. Her costume is glamorous with a sparkling, gold evening gown and matching heels. She has teased, shoulder-length red hair that flips outward at the ends and a dark mole on her cheek. Her heavy eye shadow, sleek eyeliner, false eyelashes and red lipstick are always perfectly applied.
Mary Ann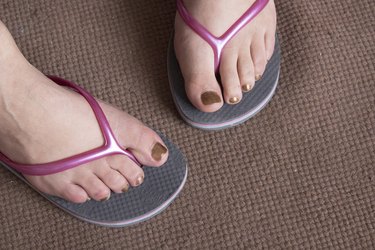 The farm girl, Mary Ann, is the sweet and nurturing castaway. Though she can wear a few different costumes, her short, brunette pigtails are her signature. The best Mary Ann costume has a red-and-white checked, sleeveless, button-down shirt tied in a knot below the bosom. Her short shorts are blue with a waist that ends just above the bellybutton. No shoes are required for Mary Ann, though a simple pair of sandals can be used if needed.
Mr. Howell
Rich and arrogant, Mr. Howell is the haughty millionaire castaway. He wears a pair of white yachting pants and a blue, emblem-embroidered suit jacket. His tailored white shirt opens at the collar to reveal a fancy silk ascot. The costume can be paired with a pair of leather loafers or fancy canvas yachting shoes.
Mrs. Howell
Mrs. Howell is the sweet, but clueless and spoiled, castaway. Called "Lovey" by her husband, she has short, platinum-blonde hair that is always perfectly styled. She wears pearl earrings, a pearl necklace, white gloves and white shoes with a low heel. Her main outfit can include any matching coat and skirt/pant combination, such as floral-patterned silk pants with a ruffled, pearl-buttoned, floral jacket and matching sunhat.
Skipper
The robust and cheerful Skipper is the captain of the wrecked ship and the leader of the castaways. He wears white pants, white canvas shoes and a blue, short-sleeve shirt that hangs loosely over his big belly. He has a dark blue captain's cap with an embroidered emblem in front.
The Professor
The professor is the brilliant castaway who can create a coconut radio, but cannot fix a hole in a wood ship. The professor wears a white, tailored, long-sleeve, button-down shirt tucked neatly into his beige slacks. A pair of simple leather loafers and a simple leather belt finishes his outfit.