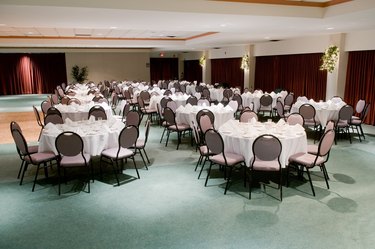 Whether it is a banquet for children or your parents' 60th wedding anniversary that you are planning, games and activities will liven up the event and ease the tension of banquet formalities. Getting creative with the games to incorporate your organization's theme will make this even more exciting for your guests. Games that get people talking and laughing, about something other than their collections of 1970s action figures while they wait for dinner or awards, will work great.
Themed Games
Center your games and activities on one theme to spice up the event. Put on a carnival or circus games. Let guests play ring toss for themed prizes or battle out their old disputes in plastic sumo suits. You also can take a trip around the world and incorporate themes from other cultures. Play mahjong at your tables or have a medieval jousting tournament with foam spears.
Table Games
Table games are a great way to pass the time in between other banquet events. Try setting up a quiz bowl tournament with each table making up a team. You can even choose questions that center on your organization's theme. You also can play team charades with the same ideas as for the quiz bowl. For the older crowd, set up tables for a casino-themed banquet. Remember those old ad-lib story lines where we got to choose adjectives and adverbs as kids? Well, they still work great with adults and are another great way to help liven up the event.
Interactive Games
Games that get people interacting with as many people in the crowd are excellent for relieving the tension that a room full of strangers can bring. You can play the "I am" game, which involves taping an index card with a famous person on the back of the guests. Then everyone has to go around the room asking who they are and can ask only one question per person. You can tailor this to fit your theme, such as a Christmas or Valentine's Day banquet, by using famous people that fall into your theme.