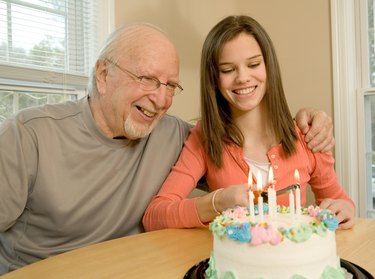 Buying a gift for a 92-year-old may seem a little challenging. Anyone who has lived 92 years has experienced a lot of life and may appear to have everything she needs. Giving a gift to a 92-year-old may need to be centered on his personal life more than general gift giving. Think of gifts that will make an emotional impact on her final years of life or that can help celebrate the previous 92 years. Find gifts that celebrate life and encourage hope and a bright future. Be creative and innovative to make a lasting impression with the gift you choose to give.
Celebrate the Number
Use the number 92 as the premise for the gift you want to give. You can spread the work among friends and family encouraging them to give a gift that has to do with the number 92. For example, if the individual has a real liking for dark chocolate, you can buy 92 pieces of dark chocolate and place it in a decorative box or vase. You can make a quote book of 92 quotes that he is famous for saying. Gather the quotes from recent and distant friends to celebrate the spirit of the 92-year-old.
Memory Book
Make a memory book that documents the life journey of the recipient. Create the book in chronological order starting with their birth, childhood, schooling, career and lifelong message. You can use quotes, highlight specific dates such as graduating high school, marriage and children. This gift can be a cooperative effort by those who are the closest to the 92-year-old. End the book with a short letter of appreciation and encouragement of the person's life.
Time
Most elderly people simply want to be with the people they love the most. They want to enjoy friendship and love during their final years of life. You may want to take the person to their favorite place to eat or to go see an old movie. Give the gift of time by setting aside quality time to reflect and share intimate memories while making new ones.