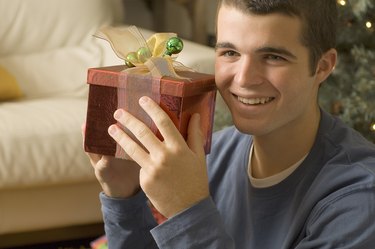 Shopping for Christmas gifts is fun when you have a clear picture of what you are looking for. Cruising down shopping aisles blindly shopping for a gift you hope might be the right one can be stressful. This is especially true when shopping for a teenage boy. Buy a gift that is not too juvenile but also not too grown up. Teenagers today are technologically savvy but also enjoy traditional age-appropriate gifts.
Technology Gifts
New and refurbished cell phones make good starter phones for teenagers. Choose a phone that offers phone and text service plans, a camera and video function. MP3 players and some gel headphones are technology gifts he will enjoy. Some MP3 players also have an FM and AM radio too.
Musical Instruments
Musical instruments make good Christmas gifts for boys. Acoustic and electric guitars are nice to give. Buy a guitar that comes with a good carrying case and any electrical equipment. Enroll your child in a guitar class to teach him how to play. Drum kits with a bass and two snare drums are a good starter set to give a drum lover. Keyboards today are easy to learn because of play-along functions and digital boards.
Grooming Kits
Give a grooming kit to your teenager. This could include a manicure and pedicure kit. A grooming kit should also include an electric, rechargeable razor and trimmer to keep facial hair under control. Add some good smelling cologne and after-shave to your grooming kit.
Toys
Even big boys like toys. A Rubik's cube puzzle will keep him entertained during car rides. Closet-door basketball games with foam balls are toys he will enjoy. A dartboard with traditional or magnetic darts will bring him hours of entertainment.
Outdoor Toys
Teenage boys enjoy playing with bows and arrows. Include some goals he can aim for in the backyard. A mature child would enjoy playing with an air pistol or BB gun. Basketball goals and trampolines are traditional outdoor toys that will get him outside exercising.
Water Toys
If you live close to a lake or beach, give your teenager a water toy for Christmas. Starter surfboards with wax and straps make great presents. Want-to-be water sportsmen like scuba and snorkel gear. Body boards and water skimmers are excellent toys for water play. Small kayaks and paddles will have your teen wishing for summer.