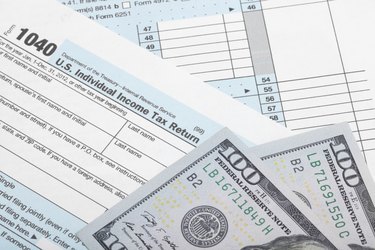 Tax day doesn't have to be all work and no play. Once you've settled up with the IRS, throw a tax-day party to celebrate. With decor that incorporates fake money, official tax forms and the color of cold, hard cash, your party will be just as exciting as getting a refund check in the mail.
Using Tax Forms as Decor
Turn those complicated IRS documents into decorations to add a humorous element to your tax-day party. Print out stacks of common tax forms such as Schedule C and Form 1040, then paste the forms together to make a tablecloth that looks like an IRS-approved crazy quilt. Use scissors to cut fringe on additional forms, leaving an inch or two uncut at the tops of the forms, and tape the fringed tax forms along the edges of side tables. Cut up forms to make paper garlands or laminate forms and set them underneath serving dishes.
Money-Themed Decorations
Tax day is all about money, so incorporate plenty of fake cash into the decor. Check party-supply stores or toy stores for money-themed decorations such as play money, gold coins, and napkins and paper plates covered in pictures of dollar bills. Stuff a piggy bank with play money for a table centerpiece and scatter plastic gold coins on tables. Use more play money to make party streamers, or shred a stack of fake cash to make confetti.
Patriotic Accents
Taxes are the fuel that helps the U.S. run, so incorporate patriotic touches into your party decor to celebrate the good old U.S.A. Frame a print of the classic Uncle Sam character to hang on the wall or display an American flag in the entryway. Print out tiny American flags and glue them on toothpicks, then stick the flags on top of cakes and cupcakes. If you're having a sit-down dinner, place a small American flag on a stand in front of each table setting.
Green Color Schemes
Use the color of money as a color scheme, adding pops of green to your decor. Tie green balloons on chandeliers and above doorways, set out green plants and flowers, and use green throw pillows and cushions on chairs. Make green triangle-shaped pendants to string along walls and decorate each pendant with a glittery gold dollar sign. Serve food on green plates, set out snacks in green glass dishes and use green plastic utensils.