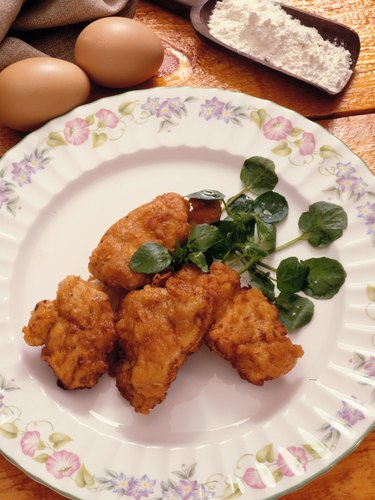 Prepare side dishes that add savory, sweet or spicy flavors to your chicken fingers. Steamed dishes, creamy salads and roasted foods add to the appeal of any meal, especially chicken dinners. Fried chicken fingers have a crispy texture, so you can focus on mimicking this texture with other foods, or create a totally different hot or cold dish to go on the side.
Steamed Spinach, Broccoli or Asparagus
Steamed vegetables go really well with any type of chicken dinner, especially fried chicken fingers. Steam broccoli, asparagus, potatoes or spinach. Jazz up these sides by adding slivered almonds or sunflower seeds if you want a more crunchy effect. Sweet additions such as dried cranberries or blueberries can also make steamed spinach more appealing. Melt Havarti cheese instead of cheddar and pour it on cooked potatoes or steamed asparagus.
Honey-Glazed Vegetables
Honey-glazed vegetables add a sweet taste to a chicken fingers meal. Preparing this meal involves boiling vegetables such as carrots or potatoes until the food has softened, then pouring a honey mixture on top. You can glaze just about any vegetable to create a sweet side dish.
Roasted Fennel or Leeks
Prepare roasted fennel or leeks to go with chicken fingers. Place the clean vegetables on a baking dish and pour melted butter, orange zest, herbs and spices on top. Allow the vegetables to roast in the oven for five to 10 minutes before serving. These savory foods complement chicken well.
Salads
Enjoy all sorts of crispy salad side dishes with fried chicken fingers. Choose a classic garden salad with sliced carrots, tomatoes, cucumbers, green peppers and ranch dressing. Other salads such as Caesar or walnut cranberry also complement a chicken fingers meal. Add chopped almonds, sunflower seeds, dried fruit and other toppings. Try a cucumber yogurt salad as a side option. This salad includes chopped cucumbers, yogurt, dill, salt and pepper. You can even chop up a few chicken pieces to go directly on top of the salad.