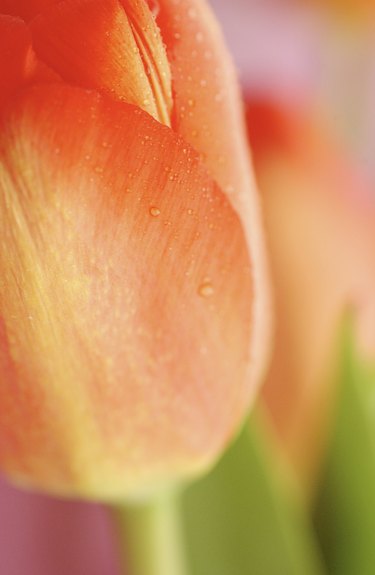 When used together, aqua and coral create a bright, fresh feeling at a wedding reception. Whether you go with bold, saturated colors or more muted shades, the contrast between the coral and aqua colors is suitable for a bright spring or summer wedding. As you plan reception decorations, consider how you can work your color scheme into each element of the room.
Centerpieces
Table centerpieces go a long way toward creating the feeling you want in the reception space. Guests will see them immediately upon entering because of their high-visibility locations. Choose flowers in different shades of coral and put them in a vase wrapped in aqua ribbon or a solid aqua glass vase. You can also use clear vases for the flowers and put fake coral in the bottom for a natural touch. Select flowers that echo those used in the bridal bouquets to create a cohesive decor scheme.
Table Settings
Because aqua and coral are both bold colors, use white tablecloths so the reception color scheme is not overwhelming. Choose either aqua or coral and use it in the napkins. Then, use accents in the other color, such as the napkin rings, place cards and table numbers. If you want more color, use a pale aqua tablecloth with a white runner and coral napkins. The muted shades will be less dramatic when used in large expanses.
Chair Hangings
For a special touch, add aqua ribbons tied to the back of the chair. Tie them in a bow and suspend a miniature bouquet of coral-colored flowers from the center of the bow. The bouquets can double as party favors for guests. You can also make aqua-colored paper cones and fill them with coral-colored rose petals. Guests can throw them instead of rice or bubbles as the couple leaves the reception. By including chairs in your decor scheme, you can create a finished look to the reception hall.
Mix Shades
When planning an aqua and coral wedding reception, too much of a single shade can be overwhelming. Add depth by using different shades of the colors. Choose flowers in different shades of coral or rent napkins in multiple shades of aqua. By using multiple shades, you can make the reception decor softer and more elegant.