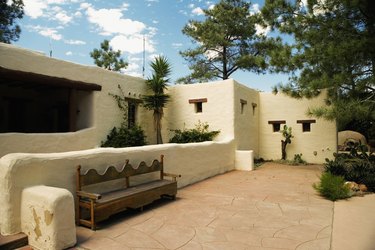 Acrylic or synthetic stucco, also known as exterior insulation and finish systems (EIFS), has been used on home exteriors in the U.S. since the 1980s. It is cheaper and easier to work with than traditional cement stucco, but is not without its pitfalls. Acrylic stucco dents easier than cement and can lead to water damage.
Acrylic Stucco
Acrylic stucco installation begins with an expanded polystyrene insulating board attached to the exterior wall of the building. The synthetic stucco is applied in either one coat or two, with the two-coat system having a fiberglass mesh reinforcement embedded between the layers. The finish coat comes in a variety of colors and textures and provides a water-tight surface.
History
Synthetic stucco originated in Germany in the years following World War II. Originally used on commercial buildings, both in Europe and later in the U.S., acrylic stucco was not used on residential dwellings in the U.S. until the 1980s, states Home Inspections USA.
Problems
The majority of the problems with acrylic stucco are water-related. The water-tight seal of synthetic stucco is sometimes too water-tight. If a small water leak does occur, the water gets trapped behind the stucco and does not drain properly, causing water damage to the home.
Stamford's Tony Tufariello reported in "Synthetic Stucco Failures" that "in a group of randomly tested homes with EIFS wall finishes, fully 95 percent were found to have some moisture problems, with the resulting damage estimated to average $3,000 to $5,000. Similarly, a study of such homes by the American Institute of Architects found 'unacceptably high' moisture levels in 90 percent of the 205 EIFS homes it tested."
Other problems with synthetic stucco include a softer surface than cement stucco, increasing the likelihood of dents. Also, the foam behind the stucco, "when installed at or below grade, was conductive to termite and fire ant infestation," according to Home Inspections USA.
Solution
A synthetic stucco system designed to manage the water that seeps behind the stucco may be the solution to acrylic stucco's biggest problems. The water is collected and deposited back on the exterior of the building. Ask the Builder states that "the system incorporates a special barrier paper, old fashioned metal flashings, cement board in place of foam board and a combination of a Portland cement basecoat topped with a textured polymer stucco material."