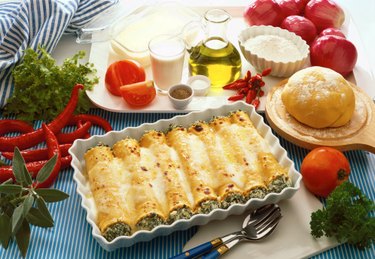 Cannelloni and manicotti are both Italian dishes that get interchanged erroneously. Both are usually typed as filled pasta dishes, but manicotti, which is pre-made pasta tubes, is more common in the United States, according to Webster's Dictionary. Though they are similar, there are many differences between cannelloni or manicotti.
Cannelloni
Cannelloni is a type of pasta dish that uses pasta shells, rectangular sheets of pasta or crepes. According to Webster's dictionary, cannelloni means "large reeds" in Italian. When crepes replace the pasta dough for cannelloni recipes, they are 3 to 4 inches in length and rolled to 1 inch in diameter. Salvatore Coletta invented the cannelloni in 1907 at his restaurant La Favorita in Sorrento, Italy. The pasta dish was first known as "strascinati" because the pasta was rolled and stretched.
Manicotti
Manicotti uses pre-formed pasta tubes, approximately 1 inch in diameter, rather than cannelloni's pasta sheets. Manicotti means "sleeve" in Italian. American composer Peter Schickele's "pastaphone" helped to make manicotti famous. He would play the uncooked manicotti pasta tube like a horn. In the U.S., manicotti is typically sold dried and made from semolina flour like other pastas.
Cannelloni Recipes
Typically, cannelloni is stuffed with meat or vegetables with cheese, such as ricotta. Cheese or a marinara sauce is cooked separately and the pasta rectangles are boiled. Many recipes call for lasagna pasta or the crepes can be made from flour and eggs. After the pasta or crepe is cooled, the filling is spread onto the flat pasta. Then the pasta rectangle is rolled and placed in a baking dish. Once all the pasta is filled and rolled, it is baked with the sauce on top.
Manicotti Recipes
For manicotti recipes, the sauce and the filling are prepared separately. Manicotti pasta tubes are boiled and then cooled. Each manicotti pasta tube is stuffed with a filing, usually cheese, with a spoon. Then they are all placed in a baking dish with sauce poured on top. Parmesan cheese may be sprinkled on top and the dish is baked. Manicotti recipes tend to be pasta tubes filled with only cheese and the sauces have meat and vegetables, while cannelloni recipes have meat or vegetables with cheese rolled inside the pasta rectangle.