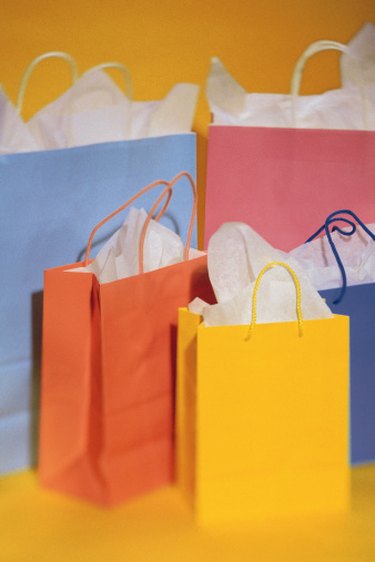 Whether you all live in the same state or around the world, a family reunion requires plenty of planning. A welcome pack gets every family member excited for activities and socializing with loved ones. Each guest should receive her pack as soon as she arrives in town for the reunion. Pass out welcome packs and cards at the first event or ask the guests' hotels to place the packs in the rooms.
Local
When family members come in from out of town, a welcome pack of local goodies gives them a quick introduction to the area. As a bonus, these types of packs can be affordable to put together since you get some items from the visitor's bureau or as donations from local businesses. Fill the bags with locally made snacks and drinks, magnets, postcards and pens featuring the name of the town.
Themed
Since the welcome pack is the first thing guests see when they arrive at the reunion, use the moment to let guests know the theme of the reunion party. For instance, if you're organizing a sports-themed reunion, place tennis balls and a bottle of a sports drink in the packages. For a reunion that celebrates your family's love of cooking, place utensils and an apron in each welcome bag. If you kept the theme a secret, this is also a way to get everyone guessing about the theme if you include gifts as clues.
Informational
With all the people and events involved in a family reunion, there will be plenty of information you must share with every guest. Placing this information in the welcome pack guarantees that each person has his own hard copy. Fill the baskets with maps of the area, a list of the organizers' phone numbers, a copy of the itinerary and some suggestions for restaurants and other attractions in case guests want to explore on their own. Add some essential items that family members will need, such as a bottle of water and a tube of sunblock.
Family History
When your family is spread far and wide, you're bound to miss some events in one another's lives. Use the welcome packs as a refresher course. Ask each person to send you a brief update on her life along with a recent photo and make copies for everyone. Frame photos of your shared ancestors or pictures from previous reunions or turn them into magnets for everyone. Type up recipes from each family member and bind them into cookbooks to add to the welcome packs.