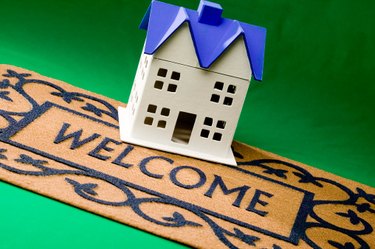 A housewarming is simply a party to celebrate moving into a new home. The tradition comes from the era before central heating when guests would help to literally "warm" the house by bringing gifts of firewood. Fires would be built in every available fireplace and a toast would be raised. These days, housewarmings are generally informal gatherings over food and drink with close friends and neighbors. They can mark the occasion of moving into a new apartment or the completion of a renovation as well as setting up a new house. Rules and traditions, such as that of bringing a small gift for the hosts, remain.
Invitations
Housewarmings may be casual but advance invitations are still required. According to etiquette doyenne Emily Post, at least a few days up to three weeks notice should be given. Be sure to specify whether your gathering is a housewarming party or an open house, another popular event for introducing friends and neighbors to your new living space. If you are having an open house, state the beginning and end of the window of time during which guests are welcome. It is typical to provide food and drink for housewarming guests and for guests to bring a small gift -- be sure to indicate on the invitation if you are deviating from either of these traditions so guests are not caught off guard.
Etiquette for Hosts
The rules for hosts at a housewarming are simple. Provide food. Finger foods are ideal as, unless it is a potluck or sit-down meal, you want to keep guests circulating. You may want to set up food stations in different areas to encourage traffic flow. Provide drinks, and maybe even create a signature cocktail for the event. You'll want to remember the warmth so assign someone to take photographs or put out a guest book for greetings and comments. And take your guests on a tour to show off your new home -- this is part of the reason they are there.
Etiquette for Guests
The rules for guests attending a housewarming are the same as for any friendly social gathering. It you are asked to RSVP, do respond with a yes or regrets. Respect the parameters of the invitation. Don't arrive early and, if it's an open house, don't stay late. Leave before or by the end time stated on the invitation. Bring your own alcoholic beverage if asked to. And always bring a gift to a housewarming unless explicitly asked not to, even if it is just a token.
Great Housewarming Gifts
The most popular housewarming gifts are plants and bottles of wine or alcohol. It doesn't take a lot of imagination to come up with gift ideas that are a bit more personal while still being practical and on-topic for warming up a home. A cookbook or kitchen gadget will appeal to the foodie; natural hand-milled soap and luxurious bath products will charm the hedonist. If your host is a friend you see often, she will probably allude to what would be most welcome in conversation prior to the event. If all else fails, a gift certificate to a local hardware or housewares store will always be welcome, as will that ubiquitous bottle of wine. The only real rule is to offer your gift with love.