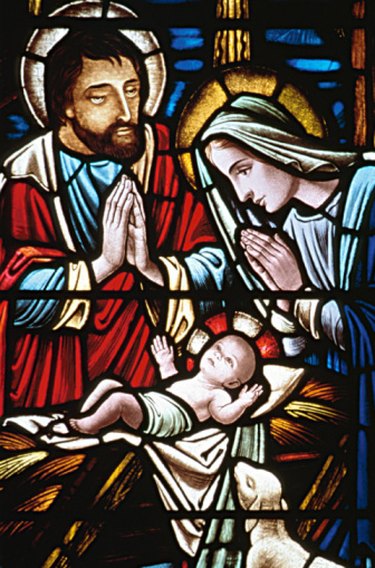 One of the most anticipated days of the year, Christmas Day commemorates the birth of Jesus Christ. While Christians observe the holiday with family gatherings and other traditions, churches also celebrate Jesus' birth with special worship services. Make your church's Christmas Day service extra special by including seasonal songs, skits and activities for the whole congregation.
Children's Choir
Make Christmas Day an opportunity for your church's children's choir to participate in the worship service. The excitement and joy of children on Christmas sets a positive, energetic mood in church. Additionally, the presence of children on stage helps remind attendees that the Son of God came to earth as a baby. Invite the children's choir to sing a classic Christmas hymn like "Silent Night" or have them join the praise band or adult choir to lead worship for the entire service.
Nativity Play
While many churches include a nativity play in their Christmas Eve services, you can also reenact the story of Christ's birth on Christmas Day. Play carols that reflect the events of the Christmas story, like "O Little Town of Bethlehem" and "Hark! The Herald Angels Sing!" while actors mime the events of the nativity as described in the books of Luke and Matthew. Finish the nativity skit by asking the congregation to join in singing a triumphant carol like "Joy to the World." If your church has a drama group, this is a wonderful way to involve them in your Christmas service.
Dramatic Reading
As an alternative to a full-scale nativity play, you could stage a dramatic reading of the second chapter of Luke, which describes the events surrounding Christ's birth. Have three or four volunteer readers seated at different locations in the sanctuary. Depending on the size of your sanctuary, the readers may need microphones. Assign each volunteer to read different lines of scripture dramatically as though they are "in character." For example, one volunteer could be in charge of reading every line that mentions Mary, while another could read every line pertaining to the angels.
Special Sermon
Christmas services attract a host of people who only attend church once or twice a year. A pastor can make the service special by preparing and preaching a sermon that presents the message of the gospel in a seasonally appropriate way. For example, you could give a sermon that tackles the issue of depression and loneliness during the holidays by focusing on Jesus as the "light of the world." You could use a trick candle to illustrate that while earthly lights and material joys can be extinguished, the joy that Christ provides lasts forever.