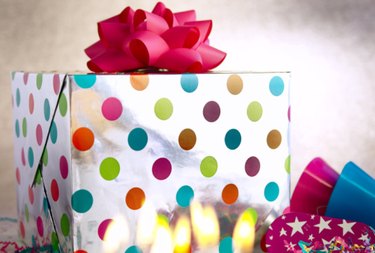 If you have a son who is about to turn 32, celebrating his birthday may be a little difficult. Your son is no longer a child and is at an age where many standby birthday presents are no longer appropriate. If you are looking for a special way to celebrate your son's birthday, there are a number of gifts you can buy and things you can get to ensure his day is just as special as it was when he was a child.
Experience
Give your son a memorable experience. This can be something for him to do alone or that the two of you can do together. If you want to give him a gift to enjoy on his own, think of an activity your son has always wanted to do or try, such as a cooking class or private music lessons, and enroll him in it.
If you want to share time together as a form of celebration, think of something the two of you have never tried before. For example, sign up to go skydiving, visit a tourist attraction or take tennis lessons. Make sure to document the event with pictures, videos or other memorabilia so the two of you can always remember the special celebration you shared.
Sports Gifts
Although many 32-year-olds aren't playing sports like they did when they were younger, many men still remain avid sports fans. Whether he's a diehard fan of a certain NFL team or enjoys monster truck competitions, tickets, clothing and paraphernalia always make good gifts.
Taking your son to a sporting event he's never seen can serve as a memorable experience. Or contact the stadium of your son's favorite sporting team to arrange a tour or behind-the-scenes access to players or venues for a special gift.
Surprise Party
If your son is turning 32, he is no longer at the age where his parents are planning his parties. However, if your son or his spouse aren't planning a celebration, a surprise birthday party could be the perfect gift. Remember that your son is older and more mature than he was the last time you threw him a surprise party. Make sure to have plenty of food and alcohol at the party, but games and activities are probably no longer needed. Adult parties still need cake though, so make sure to make or purchase one.
For decorations, make a large sign or banner that says "Happy Birthday" and use pictures of your son and his family, if he has one, as decor.
Traditional Present
When it comes to your son's birthday, a traditional present is always a safe bet. Parties and experiences aren't the only way to celebrate. A traditional gift, such as a watch, piece of jewelry or clothing, can serve as a memorable way for your son to celebrate his birthday. Such items as picture frames that feature a special photo of you and your son or your son and his children are always good gift options as well. Whatever gift you decide to get, make sure you try to adhere to his personal style and interest.