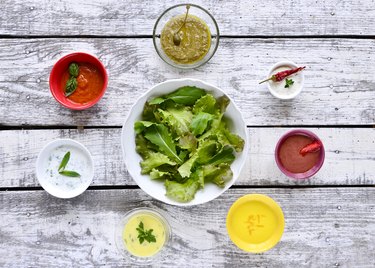 Demystify your bottled salad dressings, and learn how to make them yourself. It's surprisingly easy! Use fresh and wholesome ingredients from your pantry and kitchen, and forgo the industrial oils, sugar, preservatives and thickeners in store-bought dressings. Best of all, you'll realize how lackluster those dressings taste compared to what you can whip up at home. Check out these various types of salad dressing to spice up your greens.
Ranch Salad Dressing
You've tried countless different kinds of salad dressing, including many brands of ranch dressing; now it's time to make your own. This cool, creamy and tangy dressing is remarkably simple to make, and its ingredients are pantry staples like buttermilk and mayonnaise. You'll be drizzling this easy ranch dressing on all your favorite accompaniments in less time than it takes to run to the store and buy some.
Italian Variety of Salad Dressing
Add some zing to an otherwise boring salad with a drizzle of your own homemade Italian dressing. Play around with red wine, white wine or cider vinegar and a variety of herbs like oregano, thyme, basil and marjoram to customize your own perfect Italian dressing.
Thousand Island Salad Dressing
About 10 minutes is all it takes to whip up homemade Thousand Island dressing from scratch. Many fast-food restaurants and diners use this sweet and tangy dressing as their "secret sauce" to jazz up salads, sandwiches and burgers with a basic base of mayonnaise, ketchup and pickle relish. You can add Worcestershire sauce, paprika, eggs and other ingredients to create your very own "secret sauce."
Russian Salad Dressing
Don't confuse Russian dressing for Thousand Island. While both have a base of ketchup and mayonnaise, Russian dressing has a spicy kick that gets its heat from horseradish or your choice of hot sauce. Put a dollop this creamy, zesty dressing on salads or as a spread in sandwiches and burgers.
Garlic Avocado Salad Dressing
If you're a guacamole aficionado, this garlic avocado salad dressing will hit your sweet spot. This avocado-based dressing isn't as thick as guacamole, but it retains that fresh and creamy piquancy that makes it so delicious. Try it on a salad with black beans, grilled corn and crumbled tortilla chips for a Southwestern flair.
Basic Vinaigrette Types of Salad Dressing
A basic vinaigrette is a healthy salad dressing recipe and only requires a few ingredients -- oil, vinegar or lemon juice, and salt and pepper -- to create a sweet and savory vinaigrette in under 5 minutes. Choose from a wide range of vinegars and oils, from extra virgin olive oil to hazelnut, to mix and match all year with different and memorable results. It's truly an easy salad dressing with endless possibilities.
Roasted Strawberry Vinaigrette
Roasted strawberry vinaigrette is an exquisite way to use up those ripe to overripe strawberries in your refrigerator. Roasted strawberries simply burst with concentrated sweet juices, while balsamic vinegar balances it out with its own sweet and acidic character. Of the different kinds of salad dressing recipes, this is a wonderfully rich and bright vinaigrette that will go perfectly on any summer salad.
Real Caesar Salad Dressing
Unlike its store-bought counterparts, real Caesar salad dressing made with whole ingredients is a rich explosion of flavor. Raw egg yolks make a creamy emulsifier, and the brine from the anchovies gives it a sea-salty complexity. If you don't want to use raw egg yolks and anchovies, you can substitute other common ingredients, but it won't be quite as good as the real deal.
Honey Mustard Sauce
Whether for dipping, basting or as a salad dressing, honey mustard sauce boasts a versatile array of culinary uses. This sweet, tangy and spicy dressing is always tasty with chicken and salad, or use it to marinate pork chops before grilling. All it takes is a few ingredients and 10 minutes.