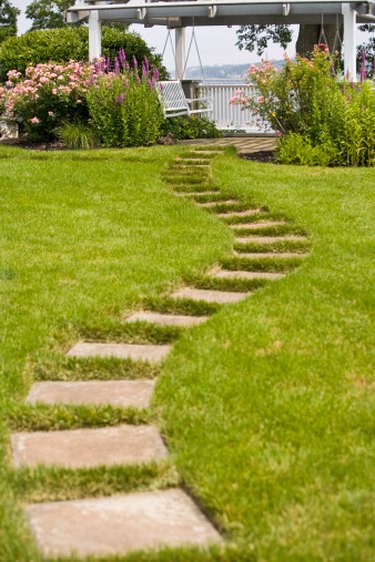 Any additional finished space adds value to a property. The same holds true for a walk-out basement. Essentially a walk-out basement is equivalent to a separate apartment affixed to a property, offering an exterior entry and exit door leading directly to the back yard or patio space. In concept and design, walk-out basements make a lot of sense when it comes to adding property value; however, a walk-out basement is not suitable for every home.
Walk-out Basement vs. English Basement
The primary difference between the walk-out basement and an English basement is the placement of the entry and exit doors. Traditionally, English basements have exterior doors either at ground level or slightly below ground level in the front of a property. In contrast, a walk-out basement has an entry and exit access point in the interior of the property and another door at the rear exterior of the property. Traditionally, walk-out basements are at ground level, whereas English basements are either at ground level or slightly below. In basic design, a walk-out basement and an English basement are not vastly different spaces. However, walk-out basements offer more basic benefits for the home's livability than English basements do.
Purpose of the Walk-out Basement
You can transform a walk-out basement into virtually any kind of space imaginable. You can use walk-out basement spaces for in-home offices, studios, artists' spaces or even a separate room to rent out to a tenant. When you are deciding on how your walk-out basement is to be used, the sky is the limit.
Lot Considerations
Though you can build a walk-out basement on virtually any type of lot, it is best suited for a sloping lot: specifically, a lot with a downward slope in the backyard area. This enhances curb appeal as well, because the home's front appears to have only one or two levels. The walk-out basement is visible only from the back yard.
Cost Considerations
Having a walk-out basement built in a home already under construction is typically the most cost-effective way to add this useful space to your property. However, you can add a walk-out basement to virtually any type of house, anywhere. The downside is that adding a walk-out basement to an existing property is a costly proposition, especially if it's necessary to cut through rock or level the lot. However if the construction is done properly and the walk-out basement is deemed livable space, it can add at least $20,000 to the overall value of your home, according to experts at Home Questions and Answers.