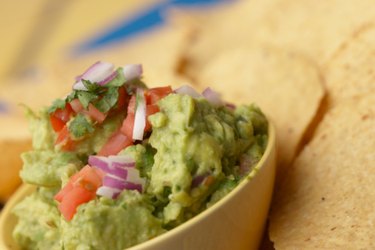 Made with avocados, guacamole makes a perfect dip for a variety of things. Choose ingredients like lemon, cilantro, onions, tomatoes or garlic for traditional versions of Guacamole, or add curry spice or bell pepper for a unique twist. Choose dippers that match your recipe.
Chips
Nothing says fiesta like guacamole and corn chips. This traditional pairing will fly off your table. Guacamole is versatile enough for any chip, including your basic salted potato chip. As a healthier choice, select a baked chip. For a heartier meal, serve nachos with a bowl of guacamole for dipping.
Quesadillas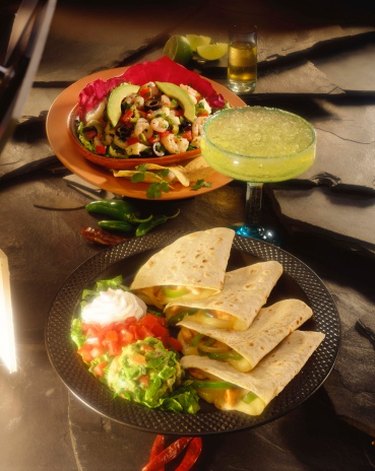 Quesadillas bring the flavors of Mexico into a finger food. Make a basic quesadilla by melting cheese between two flour tortillas. You can also add black beans, carne asada or vegetables. While cheddar is common in American versions, this quick dipping snack can be made with just about any cheese, including goat cheese or Monterey Jack. For a party, use slices instead of quarters to make the quesadilla easier to share. If you're in a hurry, you can skip the cheese and just dip the flour tortillas.
Rolled Tacos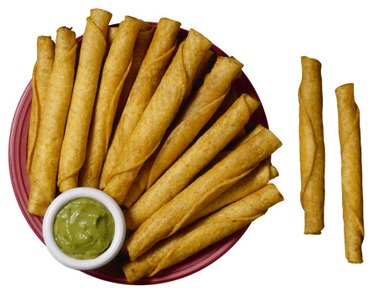 For many, guacamole on tacos is a standard option, but dipping a taco creates a mess, as toppings go flying. Instead, choose rolled tacos, or taquitos, for dipping into guacamole. Try serving the compact and easy-to-share taquitos for dipping at your next party instead of nachos. Three or four rolled tacos with a side of guacamole also make a great standalone meal.
Vegetables
Instead of pulling out the ranch dressing for your next crudite tray, try guacamole. As an added bonus, vegetables provide a health alternative to chips. Extra lemon in the dip will bring out the flavor of raw veggies like zucchini sticks, broccoli and carrots. A touch of curry or cayenne in the guacamole can add spice to your basic vegetable plate.
Shrimp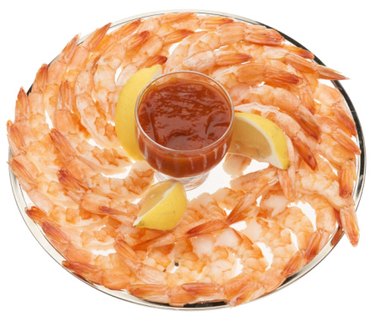 Use chilled shrimp as a finger food dipped in guacamole for a quick snack, or spruce it up and serve in a cocktail glass for a plated appetizer or entree. If you prefer warm shrimp, the smokiness from grilling pairs well with the creamy texture of guacamole. Wrap the shrimp in bacon for added flavor, or simply add chopped bacon to the guacamole. The crisp saltiness of the bacon brings out the creamy, buttery flavor of an avocado.
Fries
Next time you have a plate of fries, skip the ketchup and try a tangy guacamole as a dip. To boost the avocado flavor, try dipping avocado fries. Simply slice avocados into wedges, coat with breadcrumbs and fry. When dipped into a spicy guacamole, this makes a truly gluttonous treat. Luckily the monounsaturated fat in avocados counts as "good" fat.