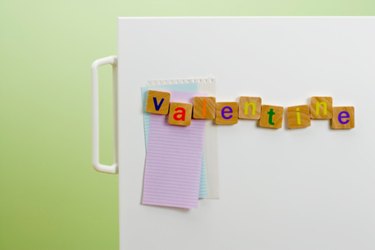 Give your refrigerator walls a break and construct these clever alternatives for magnetic surfaces. In addition to being functional, these homemade crafts are also inexpensive to make. You don't have to purchase any heavy metals or materials to boot. Go ahead, expand your magnet collection and stick them onto these attractive surfaces.
Plywood Fireplace Cover
Childproof your fireplace in style with this one-of-a-kind chalkboard/magnetic screen. Take the dimensions of your fireplace and cut a piece of plywood to those measurements. Apply a coat of magnetic paint on one side of the board. Let dry, then apply a layer of chalkboard paint. Repeat several more coats of both paints, drying in between. Nail or screw the screen into the fireplace to secure. This is ideal for homes with children, as you can draw on the boards too.
Sheet Steel Surface
You can make a simple magnetic surface using inexpensive lightweight sheet steel, available at any hardware store. After you degrease the steel, prime and paint its surface. Let dry. Stick double-sided foam tape to the back of the sheet and press on the wall. Hold for several seconds until the sheet is secure.
Magnet Chair
Turn your furniture into funky magnetic surfaces. This is a creative project for children's rooms. First, use sandpaper to smooth out the wood in the furniture. Apply a coat of primer on the surface and let dry. Then apply a few coats of magnetic paint onto the surface, allowing the coats to dry in between. The more coats you use, the stronger the magnetic attraction will be. Let the paint dry overnight before you apply your magnets.
Paper Covered Magnetic Board
To inexpensively dress up a plain magnetic board into a creative wall hanging, decoupage your favorite pictures or cut-outs directly onto the surface. You can purchase decoupage glue, such as Mod Podge or make it yourself, by combining glue and water. For a pretty map-themed magnetic board, size a map to the size of your board. Apply a thin coat of glue on the surface and adhere the map to the board. Smooth out any air bubbles. Apply several more coats of glue on the map. Let dry for a few hours, then hang.