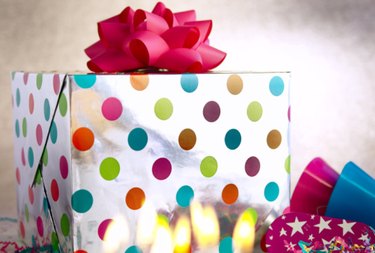 A Sweet Sixteen party marks the transition from girl to young adult. While the party to celebrate this special occasion should be memorable, it does not have to cost a fortune. By combining your time and talents, the birthday girl's likes, and a room full of her friends, you will throw a Sweet Sixteen party that she will remember for years to come. .
Slumber Party
For a slumber party, offer a snack buffet to keep party guests energized since there won't be much slumber. Plan a spa night and have party guests do each others' hair and makeup along with manicures and pedicures. Have a camera handy for the finished results. For party favors, consider hair accessories, makeup, nail polish or bubble bath. To wind things up, have a favorite breakfast planned for late the next morning. If a spa night doesn't interest her, plan a movie evening or late-night bowling.
Tiki Party
If the birthday girl has a summer birth date and wants a casual party, plan a tiki party. These parties don't have to be overly elaborate. To cut costs, plan just one fancy non-alcoholic party drink; think coconut, pineapple or lime. Cut up three or four kinds of in-season fresh fruit, add some cheese and crackers, and serve with toothpicks for an appetizer that won't break the bank. Grill hotdogs and hamburgers or other favorite food. Check out the dollar or discount store for candles for lighting and artificial flowers. Place the artificial flowers in bowls or string for leis. Plan some dance music. Ask guests to dress with the theme in mind. Put some sand in a children's wading pool and use it to hold tiki torches or candles.
Tea Party
For a quiet celebration, check out thrift stores and garage sales for fancy tea cups and saucers. They don't have to match; a variety adds charm. Set a pretty table with a tablecloth and offer several kinds of teas. Plan some sandwiches and use cookie cutters to cut the bread. Offer a selection of fancy pastries or cookies. Play charades or other favorite games. Ask guests to wear their most Victorian outfit. Purchase an inexpensive but nicely illustrated book in keeping with the tea party theme and ask guests to sign in and write birthday greetings.
Tips To Save on Any Theme
Planning ahead will save you the most money. Make invitations for the party; these can be as simple or elaborate as your time and skill level permit. Plan your menu and purchase items on sale and keep them in the freezer. Prowl dollar stores for party favors. If you don't want to hold the party at your home, check churches or community centers for an inexpensive room. Many of these locations work well for a Saturday afternoon party. For summer locations, consider state or local parks.