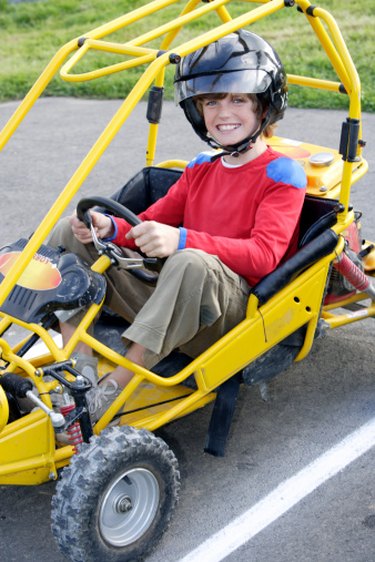 According to the Washington State Department of Social and Health Services, it is normal for children between the ages of 9 and 10 to engage in active play and have interest in team games and in developing strength, skill and speed. Parents can find hundreds of places, most of which offer birthday party packages, where 10-year-olds can celebrate their birthday and do all these things with their friends.
Family Fun Center
Probably one of the coolest places for 10-year-olds to have a birthday party is in a family fun center. A family fun center is a cool place to celebrate your child's birthday because the center offers a wide range of activities for kids. Ten-year-olds won't be bored because of the wide variety of activities available. Depending on the center, activities usually include playing arcade games, bowling and miniature golf; riding go-karts and bumper cars; and going in the batting cages or climbing a rock-climbing wall.
Skating Rink
Whether your 10-year-old wants to have an ice-skating or roller skating party, a skating rink is a cool place for a birthday. You can throw your child a birthday party in an indoor or outdoor ice-skating rink or in an indoor roller skating rink. A skating rink is an especially cool place to celebrate birthdays when it's in a rink where the kids can skate during special 1980s music, disco music or electro music themed days or nights. Additionally, ice skating is a low-impact aerobic exercise so kids not only have a good time, but get some exercise as well.
Laser Tag Center
Laser tag is a game that's similar to paintball in the sense that you have to seek out your "enemies." However, instead of using a paintball gun, kids wear a vest that's targeted with an infrared-emitting gun. Having a birthday party in a laser tag center is cool because laser tag is a fast-paced, action-packed game that's played in a dark, usually futuristic-themed environment. Additionally, kids get to see statistics of how well they did after the game, such as the number of hits they made and high scores.
Paintball Arena
Celebrate your child's 10th birthday in an indoor or outdoor paintball arena. A paintball arena is a cool place for a 10-year-old to celebrate his or her birthday because usually, they can choose to play different kinds of action-packed and exciting paintball games. Some of these games are total elimination, speedball, defend the fort and capture the flag. Additionally, kids don't need to have their own equipment such as safety gear and guns since these are provided for use during game play.