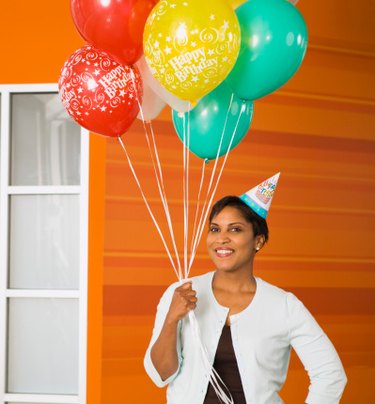 Milestone and decade birthdays are often celebrated with great pomp. A fortieth birthday may be celebrated with an "Over the Hill" or other themed party, but when the birthday boy or girl turns 41, there isn't as much fanfare. Each birthday is special and should be celebrated and embraced. Consider some fresh ideas to help celebrate a loved one's 41st birthday.
Celebration Themes & Ideas
A 41-year-old may want to celebrate the special day with a big, roaring party with family, friends and co-workers. Or maybe a quiet celebration with just a partner or immediate family is in order. No matter the size of the celebration, a theme can help bring cohesiveness to a celebration and dictate decisions such as party decorations, cake theme and even gift ideas. Choose a theme that highlights the guest of honor's personality.
If the birthday boy is a football fan, use football themed decorations for his party. Give him season tickets or a signed jersey from his favorite team. Consider sports, music or a favorite book as possible inspirations for a theme.
If the birthday girl wants a more private affair to celebrate her birthday, consider a "Walk of Surprises." Quietly hide small gifts such as a poem, birthday card or letter, a rose or a box of candy around the neighborhood. Then invite the birthday girl to take a walk with you. Stop by a tree and suggest she look up to find a poem tied to a tree limb. Look in your own mailbox to find a rose. The birthday girl will appreciate the thought and effort put into celebrating her day.
Decorations
A 41st birthday celebration should include creative and age appropriate decorations. Adult parties can be decorated in much the same way as a child's party, with balloons and streamers, but many adults would prefer more sophisticated party decor. Use flowers to decorate for a 41st birthday. Consider a bouquet of flowers in the birthday girl's favorite color. If used as a centerpiece, keep the arrangement low so guests can see over the top for easier communication. A crystal bowl with floating candles and flower heads is another age appropriate centerpiece. If the event is following a central theme, the decor should support that theme. For instance, a nautical themed party could include small model sailboats and images of anchors and sandcastles in party decor. No matter what theme you're following, include references to the year the birthday boy or girl was born in the decor. Write trivia about the birth year and frame it in attractive picture frames for party tables decor. Or make a banner that reads, "41 Years Ago . . ." and then list the price of a loaf of bread and the number one song from that year.
Cake
A cake is staple for a birthday party celebration. Celebrate a 41st birthday party with a cake that is not only delicious, but age appropriate. If the birthday boy is celebrating with a birthday party, consider creating a cake the follows the theme for the party. If no theme has been chosen, consider highlighting the birthday boy's age. Write "41 Years of . . ." on the top of the cake and then add random words around the top of the cake that could finish the sentence. For instance, write the words, "love," "laughter" or "football" on the top. For a smaller celebration, consider a sophisticated birthday cake such as a layer cake frosted in meringue or the birthday girl's favorite cake.
Favors
There's likely to be a lot of adult guests at a 41st birthday celebration, so the favors should be something that an adult would appreciate. Follow the theme when considering party favors. A golf themed party could include chocolate golf balls or a small bag of tees with the birthday girl's name printed on them. For an party without a theme or for a small gathering, focus on the guest of honor. Consider his hobbies and likes when choosing a favor. If the birthday boy likes a particular type of candy, consider giving a bag or box of it to all the guests (including him). Other favor ideas include desk paper weights, nice pens and regional gifts such as local jam or honey.