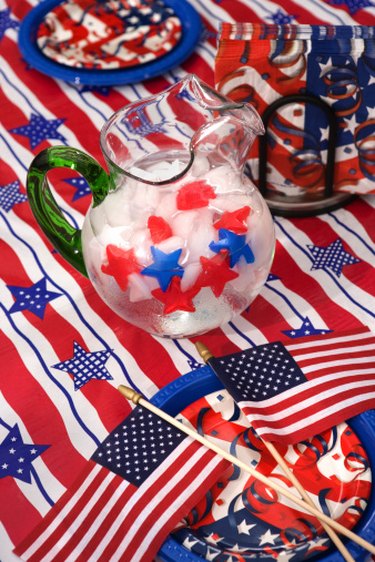 Being at work doesn't mean you have to miss out on the fun of July 4th. You can celebrate America's independence with your coworkers and enjoy the fireworks later. Incorporating games, good food and fun activities is the best way to ensure that your workplace's 4th of July celebration is just as memorable as the one you'll spend with friends and family.
Food & Drink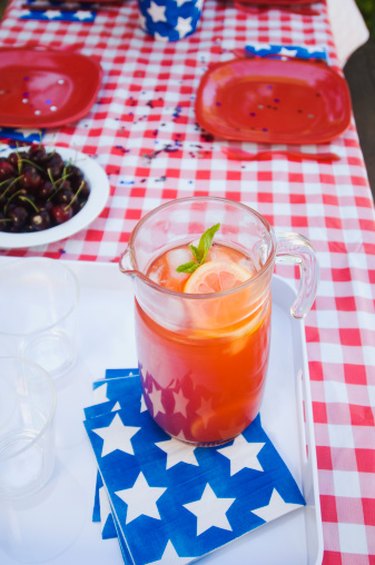 If you have only a lunch hour to celebrate, hold a patriotic potluck. Ask each coworker to bring red, white or blue food; for example, powdered donuts, blueberries or spaghetti. You'll end up with a colorful smorgasbord. If you have more time, bring the ingredients to work and cook with your coworkers. Put a group in charge of appetizers, another of the entree and the last group of the cake. Serve summery, festive drinks like lemonade, fruit punch or mocktails.
Decor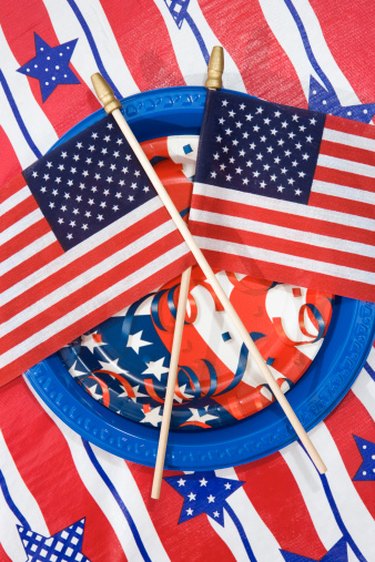 Turn your workplace into July 4th central. Hang red, white and blue streamers from the ceiling and pass out patriotic beaded necklaces. Purchase an inflatable cooler in the likeness of the American flag and fill it with ice and soft drinks. Hang a big "Happy 4th of July!" banner in the break room. If you don't mind cleaning up, sprinkle red, white and blue confetti on the floor. For party favors, buy miniature red, white and blue buckets and fill them with candy.
Games & Activities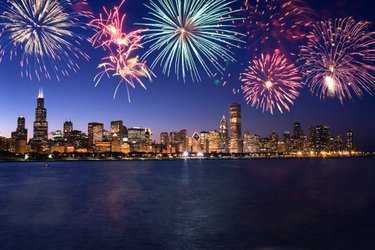 Get a small ball and have your coworkers sit in a circle. Tell them that they'll have to think fast of objects in the office (or in your industry) that are red, white or blue. To start, name an item that is red and throw it to another person in the circle. She has three seconds to think of something white, then throw it to another person, who must think of something blue. If three seconds elapse before an answer, or the answer given is wrong, the player is out. The game continues until everyone but one is eliminated.
You could also have a Fourth of July scavenger hunt. Buy a dozen American flags and hide them around your workplace. Make up clues to where they are located and pass out the clues to your coworkers, then split them into two teams. The team that finds the most flags wins.
Or, head outside with your coworkers and decorate the sidewalk or parking lot in front of your office with sidewalk chalk. Bring plenty of chalk and invite passersby to participate. If you want to stay business-minded on the Fourth of July, set up a tent and table outside your office and pass out coupons for an Independence Day deal with your company.
Other Ideas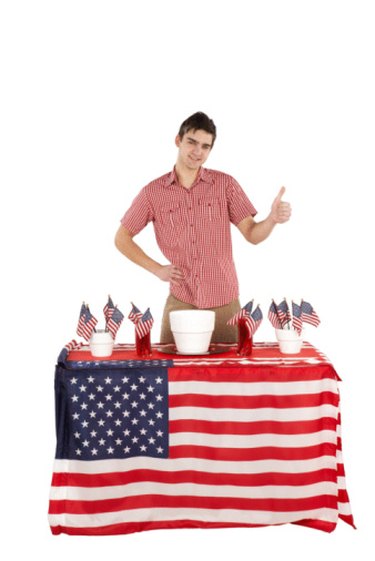 If your office has an open, flat roof, hold a drop-in party for the whole building. It can be an excellent networking opportunity and a chance to get some fresh air. Or, devote your Fourth of July to volunteerism or charity. You can get outside with your coworkers and make a difference by holding a clothing drive at your office or a car wash in the company parking lot to raise money for a favorite cause. You could also hold an open house to give potential clients a chance to get to know the staff. Serve finger foods, give out patriotic party favors and offer valuable discounts to attendees.