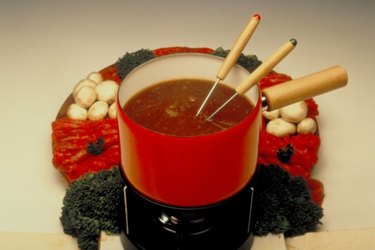 A fondue makes for an enjoyable social event and brings some variety to dinner parties. However, using the wrong fuel can lead to unpleasant consequences. Fortunately there are many products on the market for fueling a fondue, each of them tailored specifically for the temperature and type of flame that fondue requires, so mishaps are avoided.
Tealight Candles
For chocolate, butterscotch, coffee and other desert fondues, the key is to keep the liquid just warm enough to stop it from solidifying. To do this the best fuel to use is a simple, unscented tealight candle. Burn it about two or three inches from the bottom of the pan or melting dish to keep the temperature at the optimum level. These will keep burning for 4 or 5 hours and present none of the dangers associated with liquid fuels.
Liquid Alcohol
For cheese, meat or seafood fondues, you need a fuel which burns to a higher temperature than can be achieved using tealights. Liquid alcohol forms a good fuel for fondues as it burns practically without odour and will not leave sot stains on the underside of the pan. It is available from most groceries and drug stores and can be used for lamps and cleaning purposes as well as for fondue fuel. You will need a special fondue burner to use alcohol fuel. You must take special care not to spill liquid fuel, especially near flames.
Bottled Gel Fuel
Gel fuel is essentially a jellylike form of alcohol. Gram for gram of fuel burnt the burn temperature is a little lower than liquid alcohol, though gel fuel will burn for longer. The gel can be poured into a normal fondue burner and used in the way as liquid fuel. The main advantage of gel fuel over liquid fuels is the increased safety. The higher viscosity means that the gel is less likely to spill from the bottle or burner, and will not run if it is spilt. This means there is less danger of fire and if a fire is caused it will be less dangerous than the kind associated with liquid fuel.
Canned Chafing Fuel
Chafing fuels are also gel fuels, though they are packaged in screw top tins which also constitute the burning device. The advantage of this is the fuel and container have been specifically designed so that they can be burned, extinguished and burnt again, unlike bottled gel fuel, which should not returned to the bottle after it has partially burnt in the burner and can degrade in quality if kept in the burner. The disadvantage of canned chaffing fuel is that it is less aesthetically pleasing to use than a proper fondue set and temperature control is not as precise.
Butane Fuel
Newer fondue sets may use pressurized butane gas. Though these sets and the canisters of gas are slightly more expensive than other kinds, they do offer excellent temperature control, easy reuse and do not create any odor. In terms of safety, as long as the canister is not subjected to rough handling or put in an environment where the air pressure changes dramatically, the butane fuel option is probably the safest.