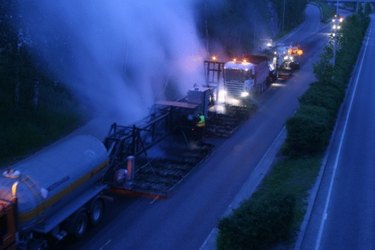 Stihl's TS 350 Cutquik cut off saw cuts extremely hard materials such as rock, steel and cement. This heavy tool is suitable for use in such areas as demolition, road repair or smaller jobs such as cutting heavy pipes. It operates by rotating a special abrasive disk very quickly, in essence grinding its way through the material to be cut.
Dimensions and Weight
With a 12-inch abrasive cutting wheel installed, the TS 350 is 29.9 inches tall, 13 inches tall when measured to its cutting guard and 12.2 inches wide, including its handle bar. It weighs either 21 or 22 pounds depending on whether it is configured for a 12- or 14-inch abrasive cutting wheel.
Engine
Stihl equips the TS 350 with a 3.68 cubic inch two-stroke engine with one cylinder. It has a 1.93-inch cylinder bore and 1.26-inch piston stroke and generates 4.1 horsepower with a spindle speed of 5000 rpm.
Ignition
The TS 350's engine uses an electronic magneto ignition system with a single spark plug. Stihl supports the use of a Bosch WSR6F, Champion RCJ6Y or NGK BPMR7A spark plug with a 0.02-inch gap. The plug should have an M14 thread which is 0.37 inches long to fit the saw.
Fuel
A 1.2 pint tank holds a mixture of 50 parts mid-grade unleaded gasoline and 1 part TC-rated two-stroke engine oil (page 20). The diaphragm carbueretor's built-in fuel pump delivers the fuel to the engine, while the air for the fuel-air mix is cleaned by a large paper filter and a secondary flocked filter.
Cutting Wheels
Stihl supports the use of 12- or 14-inch diameter wheels which allow you to make cuts that are either 3.9 or 4.5 inches deep, respectively. The wheels' thicknesses vary from 0.1 to 0.24 inches, depending on their composition and intended use. Wheels are available to cut everything from plastic to steel to stone and asphalt, and Stihl makes them out of composite or diamond materials.