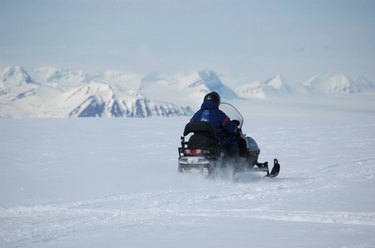 In 1979, Yamaha released a new line of snowmobiles under the name of Enticer onto the market. These vehicles were designed to travel over snowy areas at high speeds and for long distances. Due to their high level of craftsmanship, there are still models available for purchase or for private use. Knowing what to expect from the Enticer 340 will let you decide whether to purchase a used one or not.
Drive System
The Enticer 340 relies on an internal dual drive system for operation. This type of system can be found in nearly all of Yamaha's snowmobiles that they released on and around that year. Each model contains a capacitive discharge (CD) ignition system that contributes to its reputation for durability, especially among vintage snowmobile racers.
Dimensions
Longer than other models, the Yamaha Enticer 340 measures in at 105.11-inches in length, 38.19-inches in width, and 40.95-inches tall. This is a solid snowmobile that can easily fit more than one person at a time. The ski stance comes to 33.46-inches total. Each model weighs 360.8 pounds.
Fuel and Oil Tanks
With the capacity to hold six gallons of fuel at a time, the snowmobile goes several miles without needing a refill. The oil tank holds 2.5 quarts at a time. Although mileage depends upon the distance traveled and the amount of extra weight added onto the vehicle, it was rated highly by the SnowGoer website for its high mileage compared to other vehicles of its age.
Engine
The engine that comes standard with every Enticer 340 is a two-stroke, fan-cooled twin engine designed for this snowmobile. It reaches a maximum horsepower of 32 at 6,500 rpm, and a maximum torque of 25 foot-pounds at 6,000 rpm. With an engine size of 440-cubic centimeters, the Enticer can reach a maximum speed of 55 mph on the snow.
Suspension and Track
The suspension for this model is side rail with idler wheels, while the track is made with fiberglass-reinforced rubber. This construction allows the Enticer to cut through snow smoothly and evenly, making it particularly useful on rougher snowy terrains.
Carburetor
Each model comes with a Mikuni B38-34 valve butterfly carburetor that allows the driver to operate the throttle more smoothly and with greater results. This coordinates with the clutch that is a simple, yet powerful way to control the speed of your driving. The carburetor and associated mechanics are served by automatic lubrication.