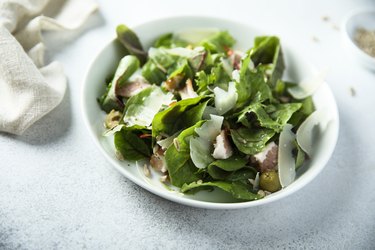 A warm wilted bacon spinach salad is a treat for lunch or dinner. Serve this hot, sweet and sour salad as the main meal or a side dish that complements a variety of meats and pasta. A vegetarian-friendly version of this tasty salad uses baked shiitake mushrooms instead of bacon and a sherry vinaigrette dressing. Add homemade bread with butter and a sweet dessert to complete your meal.
Classic Wilted Bacon Spinach Salad
The classic wilted bacon spinach salad is composed of baby spinach leaves, freshly cooked and chopped bacon, hard boiled eggs and a hot dressing made from the bacon grease, sautéed onion and garlic, sugar and balsamic or apple cider vinegar. A vegetarian version might dress up the spinach leaves with baked shiitake mushrooms, pickled shallots, toasted pine nuts and a sherry vinaigrette. While you can enjoy the salad as a main dish, it is often served as the salad course or a side dish when dining at home or in an informal setting.
When planning what to serve with the salad as main dish on a hot day, you might add additional ingredients to enhance the meal, such as sliced, shredded or chopped apples, avocados, carrots, olives, radishes or strawberries, plus roasted red peppers and toasted pecans or walnuts. Garnish with croutons and grated Parmesan cheese. An Arnold Palmer, lemonade, orange juice and sparkling water mocktail or sweet tea are all cool beverages that work nicely with the salad and vinaigrette dressing. On a cold winter night, add soup, crusty French bread with butter and tea, coffee or spiced cider to make it a hot and hearty meal.
Whether a formal or informal dinner, a wilted spinach salad pairs nicely with beef, pork and poultry. A beef pot roast, barbecued tri-tip, grilled steaks, roasted pork tenderloin, grilled buffalo wings or fried chicken are all main dish options that work well with the salad and its sweet and sour dressing. You might add the salad to a holiday meal that features a standing rib roast, spiral-sliced ham or roast, smoked or deep-fried turkey to enhance the traditional sides of mashed potatoes, sweet potatoes and/or green bean casserole.
Lasagna, spaghetti and meatballs or baked ziti with a wilted spinach salad with bacon on the side are tasty dinners for home or a potluck luncheon. If your meal or potluck features salads, this warm salad is a pleasant change from the usual selection of macaroni, potato and green salads. Adding a cheesy pasta dish and the vegetarian version of the wilted spinach salad are also options when preparing a meal for guests with diverse dietary preferences.
Other side dishes might include roasted potatoes, sauteed Brussels sprouts, lemon-pepper asparagus or braised fennel and shallots. Dredge zucchini or eggplant slices in your favorite batter, flour or breadcrumbs, then fry in olive oil or butter to enjoy with the salad. Alternatively, bake at 350 degrees Fahrenheit until golden brown. Add French bread with butter or sliced baguettes smeared with roasted garlic and olive oil.
Finish With a Sweet Dessert
Finish your meal with a sweet dessert. Consider a selection of almond or shortbread cookies, vanilla ice cream drizzled with caramel sauce, poached pears in wine, homemade apple pie, tres leches cake or your favorite Spanish, Latin American or Filipino flan as a delicious finale to a luncheon or dinner that also features a wilted spinach bacon salad.