A wilted bacon spinach salad is very versatile; it can be eaten as a starter, main course or side dish. To serve the salad as an appetizer, individually portion salad into small salad plates to open your guests' appetites. As a main course, add additional ingredients to beef up the salad and provide nutrients to keep you fuller longer. Additionally, serving a wilted bacon spinach salad as a side allows you to experiment with main dishes.
Pasta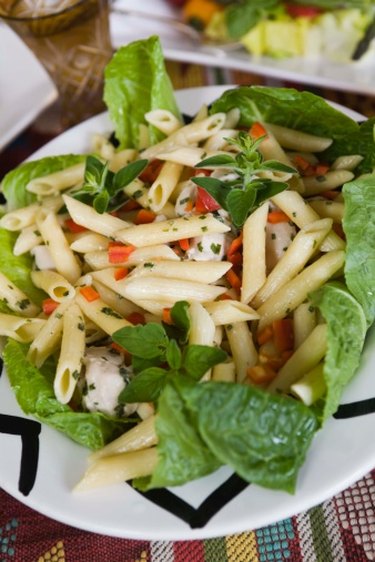 Spinach leaves have a strong flavor as does bacon. A dish needs to be packed with flavor in order to stand up to this salad. Pasta is the perfect solution when looking for something to serve alongside a wilted bacon spinach salad. Penne or bow tie pasta with spicy Italian sausage, tomatoes and mushrooms holds up to the salty bacon flavor of the salad.
Meat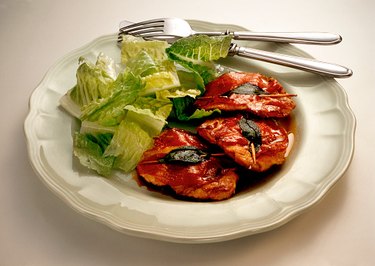 Chicken, beef, bison and lamb can be served alongside wilted bacon spinach salad for a well-rounded meal. Either prepare and chop meat to combine with salad and make one large entree or keep meat whole and serve salad as a side dish. Use flavors that complement the meaty taste of the bacon such as roast chicken, jalapenos, caramelized onions, smoked paprika and Gorgonzola cheese. When choosing seafood, go with heartier flavors like shellfish, scallops and salmon.
Appetizer Salad
To start a meal off right and wow your guests and family, incorporate some tasty additions to a wilted bacon spinach salad and serve it as an appetizer. When choosing ingredients to spice up this salad, select flavors that complement the salad without being too overpowering. Ideas include chopped hard boiled eggs, slices of tomatoes and chunks of feta.
Sweet Twist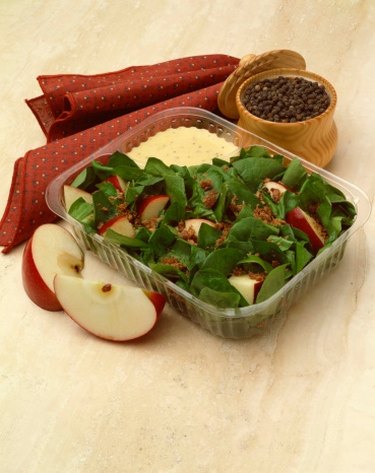 Savory and sweet flavors combine to create a sophisticated epicurean twist. The flavor and texture combo of the wilted bacon spinach salad includes chewy bacon bits, smooth wilted spinach and salty warm dressing. Incorporate sweet flavors carefully to avoid creating a salty fruit salad. Some options to consider include strawberries with toasted almonds, chunks of juicy pineapple combined with fried wonton slices, or slices of crisp green apple.