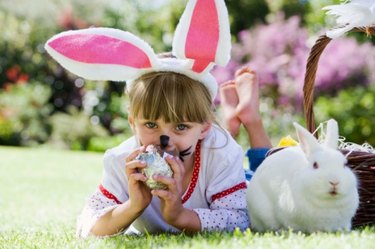 Traditionally, children hunt for eggs on Easter morning. Many will just walk around their home and yard to find where they were left the night before. However, consider incorporating scavenger hunt riddles into your Easter egg hunt this year, to lead your children from one egg to another.
Places
Have riddles that relate to different places in your home. For example, you might write "Here you roast marshmallows on cold winter nights." This riddle would indicate that the next egg can be found in the fireplace. Another example is "Don't you worry, Don't you fear. This is not your [last egg] this year! Clues will lead to something good, so look for a clue where we store food!" This clue leads children to the pantry.
Items
You could also write riddles that lead children to a particular item located in your home. For example, write "After the clothes get wet, I can make them dry. If you find me, you'll get your prize!" for an egg that is located in the dryer or "You use me to eat things, like pasta or meat. I can't cut and I hate soup; I'm usually bought in a group. Microwaves are no friend of mine. I'm cheap, not metal, and have no fancy design" for a plastic fork.
Outside
Take your children outdoors to continue their scavenger hunt. If you want the youngsters to find an egg inside of the mailbox, write "Not rain, nor sleet, nor snow can stop this message you know." If you have a flower bed in your back or front yard, you could consider using the following clue: "If you pull a bunch from this bed, they will flourish and bloom, and calm a mad pirate's head."
Navigation Clues
Direct youngsters how to walk about the house or the yard to find the next egg. For example, you might say "Three big steps to the left and four tiny steps to the right, walk ahead to the couch, and then make a turn at the light." Of course, you can alter these types of clues quite a bit, since the exact wording of them will depend upon where precisely you hid the next egg.