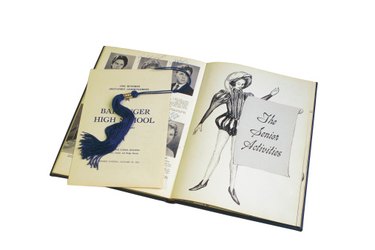 Producing a meaningful reunion memento for graduates who are now in their late 70s or 80s requires planning. When deciding what to include, consider the size of the class, the percentage of graduates whose contact information you have, the number of graduates expected to attend the reunion, the age they were when in school together 60 years earlier, and the number who have died.
Then and Now Photos
If you can connect with alums far enough in advance, ask each to send a recent photo you can print alongside their yearbook pictures from 60 years ago. This will help the graduates recognize each other at the reunion. Include information about what each graduate has accomplished in his or her life, as well as updated contact information.
Personalized Messages
Allot a quarter- or half-page to each graduate, asking each to provide personalized content such as their favorite school memories, greetings to old friends and brief updates from the last 60 years of their lives. Allow enough space for a photo, whether it's a recent one or a favorite from days gone by.
Photo Memories
Older alumni might like to have photos of their past teachers or of other school-related people and places, including photos that did not make it into their original yearbook. Perhaps you have archival images from now-hysterically-outdated textbooks or candid, never-before-seen pictures of faculty members or students.
In Memoriam
Though you want the reunion booklet to focus on happy memories, for a 60th reunion it is appropriate to mention fellow students who have died. Try to contact their children or grandchildren to provide photos and testimony about their lives or how much their alma mater meant to them.
Update on School, Community
In 60 years, many changes have probably occurred in the school. Inform the graduates how much the school population has grown or changed, include pictures of new buildings, and let them know how the curriculum has evolved since they graduated. Because many of the alumni might have moved away years ago, include information about changes in the school's community.
Descendants
Everyone loves to show off pictures and information about their progeny. Ask alumni to send in photos of their families for publication. Try to include the names and locations of their descendants, perhaps to facilitate networking and matchmaking. If any of the alumni have children or grandchildren who also graduated from the school, mention that as well.