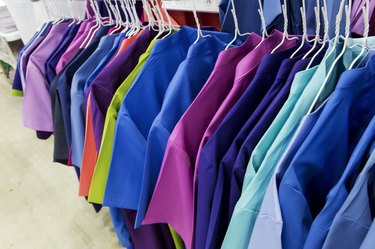 Nurse costumes are popular for Halloween and costume parties because you can easily create one from a few household items and thrift store finds. There's no right or wrong way to make a nurse costume, as long as the outfit incorporates a few basic visual elements that are commonly associated with nursing.
Typical Nurse
When it comes to a nurse's costume, the classic all-white look is a popular choice. Wear a white dress, white tennis shoes and a nurse's cap adorned with a red cross to look like an old fashioned nurse. Modern nurses wear scrubs instead of dresses in a variety of colors other than just white. Add a lab coat and white tennis shoes to complete a modern take on a nurse's outfit. Scrubs come in a variety of patterns, so choose one covered with cartoon characters to be a pediatric nurse or hearts to be a cardiac nurse.
Sexy Nurse
Adult women often enjoy dressing in provocative costumes and nurses are a sexy costume staple. To create a sensual nurse outfit wear a short white skirt with a busty white top or white lingerie, such as a silk teddy. Instead of white tennis shoes wear a pair of high heels, stilettos or boots with matching fishnet stockings or tights. Complete the look with appropriate hair and makeup, such as luscious red lips to match the red medical cross.
Spooky Nurse
Nurse costumes can be downright ghoulish with the right amount of makeup and other details. Use costume makeup to create zombie makeup such as rotting flesh and scabby wounds to be an undead nurse. Rat out your hair, smear your makeup and create an overall disheveled look to be an insane nurse. Wear white makeup with dark circles under your eyes to be a ghostly nurse. Dress as a vampire nurse that feeds on her patients by adding plastic fangs and a trail of fake blood on your lips.
Nurse Accessories
Use accessories to add an extra level of detail to your costume. Choose accessories that you don't mind carrying around and that are relevant to your particular costume. A classic nurse should have accessories like a clipboard, stethoscope or hospital ID badge. Accessories for a sexy nurse might include a thermometer, to signify that the costume is hot. For a scary nurse, add unsettling accessories like rubber gloves, a fake syringe needle or a plastic bone saw.