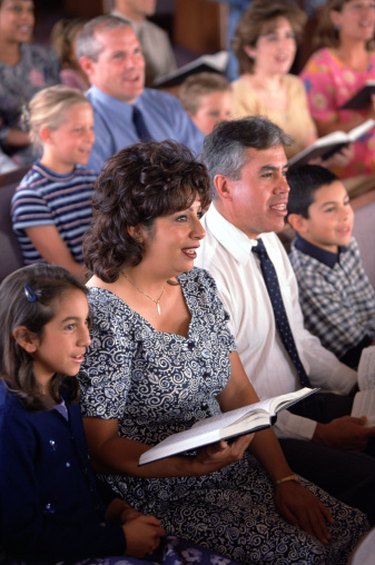 Father's Day is a great way to celebrate the fathers in the congregation and show appreciation for all that they do year-round. Whether your having a special banquet, pot luck or are grilling outside, the congregation can also bring some fun and laughter to the occasion with a few themed games that put the spotlight on them.
Guess Who?
Ask each father in the congregation to supply a photograph from when he was a child. Pin these on poster board and number each one. Have the rest of the congregation guess who the young children grew up to be.
Who Said That?
Come up with fun phrases that Biblical fathers might have said, and get the congregants to guess who said what. For example, Samson's father, Manoah saying, "Sam, get your hand out of that Lion's mouth!" and Jesse, David's father saying, "Dave, be careful with that sling, you'll take someone's eye out!"
Raffle
Get congregation members to donate services that the fathers in the congregation would normally do, such as washing the car or mowing the lawn. Get as many donations as there are fathers. Give each father a raffle ticket and have a drawing, with each dad winning one of the donations.
Whose Dad?
Ask the children to describe their fathers in twenty words or less. Video tape them giving their description. Read each description and get the congregation to guess who you are describing. When the right answer has been given, or nobody can guess correctly, play the video clip. The candid responses of children can be very funny and heartwarming.
Laundry Pile
Borrow two favorite clothing items from each father in the congregation, such as ties, baseball caps and crazy Hawaiian shirts. Put the clothes in a pile and get the kids to rummage through the pile and dress up in the clothes they think belong to their dad.